Picture-Perfect
Makeup artist Betsy Boone shares secrets for flawless spring and summer makeup.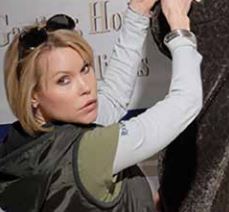 Betsy Boone fell in love with makeup early on. Growing up in Natchez, Miss., she'd often watch as her mother and other community actors applied stage makeup to perform in local plays. "I loved the smells, colors and art of makeup as they prepared for their roles," Boone remembers. "I became obsessed with the art of makeup and how it transformed the face and its features."
Now a professional celebrity makeup artist with over 16 years of experience, Boone is still just as enamored of her art as ever. She works with clients across several industries, and often attends trainings to keep her company, Betsy Boone Beauty, up-to-date with new products and techniques.
Boone's wide range of clients gives her an edge when it comes to predicting makeup trends. "Spring trends are especially interesting this year," she says. "Pantone's Color of the Year is Radiant Orchid." She notes that complementary colors include Dazzling Blue, Violet Tulip, Sand, Cayenne and Celosia Orange.
Betsy Boone's Spring/Summer Makeup Tips:
Choose sheer, light foundations with excellent endurance and water resistance. Cover FX SPF 30 Protection Primer is an excellent way to prepare and protect the skin.
RMS Beauty "Un" Cover Up is a fabulous (non-foundation) makeup/concealer that is lightweight and sheer.
Cream blushes are excellent for warm or hot weather and sweat. They don't streak or run. I prefer Inglot Cosmetics AMC Cream Blush or Smashbox Cream Blushes.
Protect and enhance the lips with Anna Sui Protective Lip Balm.