Comfort and Joy
The Jahncke family has put a lot of love into their home of 30 years
In 1979, when architect Davis Jahncke and his wife, Pickslay, began looking for a house, they wanted a place that could be home to their growing young family. It did not have to be celebrated, but it did need to have ceilings of historic heights to accommodate a massive hand-carved canopy bed, one of Pickslay's treasured heirlooms.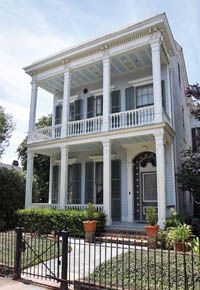 The couple eventually found a lovely Italianate house with interesting details on a corner lot near the edge of the Garden District. The house had no brass plaque, but it certainly had provenance. Built in 1867 by Captain Thomas Pickles, it boasted 12-foot ceilings, cornices, mantelpieces, ceiling medallions and several of the pier mirrors original to the house. And, yes, on the second floor there was room for the massive bed.
"We looked at it and decided it needed a little work," explained Davis, who along with contemporary projects has been involved in many historic restorations in the area. "But you know how 'a little work' grows. It was over a year before we could move in." There was plumbing, papering and the opening up of a series of small rooms to make a family room.
Davis, well-known for his exacting attention to detail, added rosettes around door frames, commissioned Sherry Haydel to faux-marble baseboards and a mantelpiece, creating Mogulinspired cornices from which Scalamandre Roman shades drop in the library, and waiting until Angelo Brocato's strawberry ice came in season in order to have the color copied for the dining room. These fine points may have had something to do with the delay. Nonetheless, the couple has lived here with little or no change, for almost 30 years.
The gray-and-white home has classic blue ceilings on the exterior gallery and a huge wraparound yard that is carved into three formal gardens. One steps into the gray-and-white hallway, filled with Robert Grafton paintings and 17th-century English portraits, and notices how the soft gray buffers New Orleans' intense light that filters through the double-hung windows. To the left is a large living room, painted Wedgwood-blue and filled with furniture and art both contemporary and antique. The architect reconfigured a hallway to connect from the parlor to a large sitting room/library, where floor-to-ceiling bookcases create a wall across from a fireplace. Painted British racing-stripe green and lacquered to a high polish, the room is cool in summer and welcoming in the colder months.
In contrast, the pink dining room glistens with a chandelier, bull's-eye mirrored sconces, tables, chairs and buffets French-polished to a deep luster. A graceful arch stretches across the room several feet in front of a bank of windows. "The detailing was original to the house," said Davis, "so we accented it with white. The room looks like a confectionary without being feminine."
Behind the grander rooms, small ones were opened to create a family room, which leads to an open kitchen. Tabasco-red-painted cabinetry meets a ceiling of sunflower-yellow, white linen– painted walls host a huge collection of Jahncke, Pipes and Minor family memorabilia—drawings of long-gone homes, photos of long-gone yachts and images of carnival queens and brides galore.
Upstairs, the master bedroom door opens to reveal Pickslay's prized bed, matching armoire and dressing table. "We believe they are by Seignoret," said Pickslay of the towering mahogany-carved bed and the famed Louisiana cabinetmaker. "But we are not sure." Seignoret or not, the bed befits this house, which is made better by its present-day owners.
"It has given us such pleasure to live, entertain and raise our family here," said Davis, running his hand on the gently worn soft railing of the staircase. "As an architect, I think it's an honor and a responsibility to have the opportunity to live in a house like this. For us, it's been a joy."