On Saturday, August 23, the Young Leadership Council will hold its 22nd Annual Role Model Awards Gala, saluting 25 New Orleanians for making a difference in our community. The honorees are appropriately called Role Models, because each and every one provides an outstanding example for the young talent that the YLC represents.
These Role Models have distinguished themselves by actively contributing to the betterment of our community in the following ways: Promoting a positive attitude and unyielding desire to enhance the quality of life in our community; striving to unite our community in collaborative efforts for its future prosperity; serving as an exemplary role model to young professionals; taking an effective and vigorous leadership role in our community; making significant contributions in their specific fields of endeavor.
New Orleans Living Magazine is honored and privileged to feature these extraordinary individuals.
John Alford
School Leader/CEO, NOLA 180
John Alford is the CEO and founder of NOLA 180, a non-profit charter school management organization designed to turn around failed public schools in the city of New Orleans. Its mission is to send all students to college by preparing them for the city's selective admissions public and private high schools. John also serves as the Upper School Principal for Langston Hughes Academy. John has a bachelor's degree in Industrial Engineering from North Carolina A&T State University and an MBA from Harvard Business School. In his previous career, John worked at General Motors as a supplier development engineer, working with chronically failing suppliers to improve their plant operations and increase production.
Dennis G. Assaf
Executive and Artistic Director
Jefferson Performing Arts Society
Dennis Assaf's artistic vision, business acumen and community leadership led to the birth of the Jefferson Performing Arts Society (JPAS) in 1978. Assaf, an innovative performer, conductor and the executive and artistic director of JPAS, has created educational outreach programs and introduced a list of stars from the world of the performing arts and literally from the world at large. He secured state funding of $28 million for a new performing arts center, which is currently under construction. Dennis holds a bachelor's degree in music education from Loyola University and master's degree in music from the University of New Orleans. He has been cited as a "Cultural Catalyst" and "One of Ten Who've Made a Difference" in his community.
Robert W. Becker
CEO/New Orleans City Park
Robert Becker has led City Park for six years and is credited with improving its financial condition, securing the first ever public financing toward the park's operating expenses and developing a new vision for the park's future. His focus is now on the restoration of the park following the extensive damage sustained during Hurricane Katrina and the implementation of the City Park master plan. Prior to his work in City Park, Becker was the general manager for Audubon Zoo and Park and director of the New Orleans City Planning Commission. He earned a bachelor's degree in history from the University at Buffalo, a master's degree in urban and regional planning from the University of Iowa and a Ph.D. from the University of New Orleans in urban studies.
Elizabeth A. Boh
Elizabeth A. Boh offers her time and talents to numerous civic organizations, including the New Orleans Police and Justice Foundation (she is the current chairman) and the Southeast Louisiana Chapter of the American Red Cross. She serves as a board member of the New Orleans Jazz Orchestra and the New Orleans Center for the Creative Arts and is a member of the Leadership Advisory Council for the Mid-South Chapter of the American Cancer Society. A native New Orleanian, Elizabeth earned a bachelor's degree in management, summa cum laude, from Tulane University, and she is designated as a certified financial planner.
Emmett B. Chapital , Jr.
M.D., MBA, FACC, FASNC
Chapital Cardiology Clinic
Dr. Emmett B. Chapital, Jr., a native New Orleanian, is an honors graduate of St. Augustine High School, Lake Forest College, Tulane Medical School and Tulane A.B. Freeman School of Business. He is board certified in Internal Medicine, Cardiovascular Diseases and Nuclear Cardiology and is a Fellow of the American College of Cardiology, American Society of Nuclear Cardiology and American College of Chest Physicians. Dr. Chapital is on the clinical faculty of the Tulane Medical School and has lectured extensively around the world on Heart Disease and Hypertension. He also has performed clinical research in the field of Hypertension, Hyperlipidemia and Atherosclerosis. He was one of the first doctors to re-open his practice in New Orleans after Hurricane Katrina.
Jay Cicero
President/CEO,Greater New
Orleans Sports Foundation
Jay Cicero joined the Greater New Orleans Sports Foundation in 1990 as director of special projects and director of sales for the 1992 U.S. Olympic Track and Field Trials. In February 1993, Cicero was named the first general manager of the New Orleans Zephyrs. In 1995, Cicero returned to the Sports Foundation and in 1997 was named president/CEO. Jay has managed a plethora of events including the annual New Orleans Bowl, NCAA Women's Final Four and NCAA Men's Final Four Tournaments, SEC Basketball Tournaments, NFL Super Bowls, and most recently the NBA All-Star Game. In addition, he serves the community as a board member of the Boys and Girls Club/NFL-Youth Education Town, Tour de Lis, New Orleans Bowl and the American Italian Sports Hall of Fame.
Chris Costelo
Deveney Communication
Neighborhood leaders describe Chris Costello as awe-inspiring. Within 48 hours of Katrina's landfall, Chris launched an e-bulletin board so residents could find each other and share information. Faubourg Marigny Improvement Association president since 2005, Chris' work benefits one of America's most culturally and historically rich neighborhoods. His efforts have advanced the non-profit and garnered a 54% membership increase since 2005. Chris orchestrated the takeover of Washington Square Park, organizing neighbors and inspiring others to reopen and maintain the park. As treasurer for the St. Claude Avenue Main Street and the Girls and Boys Town 5K Run/Walk and a commissioner on the French Quarter-Marigny Historic Management District, Chris' dedication benefits many.
Patricia W. Cox
Patricia Cox holds a bachelor's degree in elementary education from University of New Orleans and is certified as a librarian. She is retired from teaching, but continues her involvement with Jefferson Parish Public Library by serving as immediate pastpresident of the Friends of the Jefferson Public Library. She also regularly works in the Friends' Store at the East Bank Regional Library. Cox is committed to improving the quality of life in our community and is actively involved in many civic organizations including Boys Hope Girls Hope, the St. Pius X Mothers' Club, and the CPA Wives Club of New Orleans. Cox is also very active with the St. Pius X Church Parish where she serves as a Eucharistic minister and was president of the St. Pius X School Board for the past two years.
Ralph C. Cox, Jr.
Bourgeois Bennett, LLC
Ralph Cox is the managing member of Bourgeois Bennett, a local CPA and consulting firm. He is a past president of the Society of Louisiana CPAs and its New Orleans Chapter, and received the LCPA Distinguished Service Award in 2001. He recently completed a term on the governing Council of the American Institute of CPAs and serves on the Board of AGN, an international association of accounting firms and on the UNO Accounting Advisory Council. Cox serves on the boards of the New Orleans Board of Trade and Legatus and is a member of the Fore!Kids Foundation Committee and Sisters of St. Joseph National Financial Advisory Council. He spent many years in service to the Boy Scouts of America, both as a scout and an adult leader.
Joseph S. Exnicios
Executive Vice President
Whitney National Bank
Joe Exnicios began his career at Whitney Bank in 1978 as a management trainee. After several management positions within the branch system, Exnicios joined the Corporate Banking Division in 1985. Exnicios became a senior group leader and was named head of Corporate Banking in 2000. In 2007, he was appointed to lead the Metropolitan New Orleans Banking Division. In addition to his duties at Whitney, Joe has been very active in the New Orleans community. He has served as chairman of the Archbishop's Community Appeal for the Archdiocese of New Orleans in 2005 and 2006. He is chairman of the Metropolitan Crime Commission, president of the U.S. Navy League, GNO Council and serves on the boards of the American Red Cross, Boy Scouts of America, Urban League of GNO, Catholic Charities, Archdiocese of New Orleans, the Catholic Foundation and the UNO Foundation.
Ruthie Frierson
Citizens for One Greater New Orleans
Ruthie Frierson, a long time civic activist and top residential realtor for many years, is the founder and chairman of Citizens for 1 Greater New Orleans. Frierson is a Fleur de Lis Ambassador for New Orleans, board member of the Metropolitan Crime Commission, member of the New Orleans Crime Coalition Executive Committee, an Elder-Trustee of the St. Charles Avenue Presbyterian Church, and a Louisiana Speaks Champion. A past president of the Junior League of New Orleans and graduate of Newcomb College, Frierson has served on the boards of McGehee and Newman Schools, Rhodes College in Memphis, the Metropolitan Council on Aging, Longue Vue House and Gardens, Hermann Grima-Gallier Historic House and served as board president of the Louisiana Nature and Science Center.
Arthur Hardy
Arthur Hardy is recognized as a premiere authority on Mardi Gras in New Orleans. The fifth generation New Orleanian, who provides Carnival coverage for WDSU TV and WWL radio, has appeared on the Today show four times. His award-winning Mardi Gras Guide magazine has sold more than two million copies. Hardy has also published books on the Fair Grounds Race Track, the New Orleans Saints and the history of prep football in New Orleans. Arthur Hardy is a product of the New Orleans Public School System. In 1993 he was inducted into the Warren Easton Hall of Fame and now serves as vice president of the Warren Easton Charter Foundation. Hardy holds a B.M.E. degree from Loyola University.
Charles W. Heim , Jr.
Heim Consulting
Charlie Heim, FAHP, has served as teacher, coach, guidance counselor, and fund-raising executive for Jesuit High School, Tulane University, Ohio Valley Medical Center and Ochsner Clinic Foundation. Today, he shares his cumulative experience as a teacher and consultant to not-for-profits, continuing his lifelong dedication to motivating and helping others reach their potential. Heim served as an advisor to the Archbishop of New Orleans, the New Orleans Symphony, and the Louisiana SPCA. He has volunteered for the Center for Non-Profit Resources, the Girl Scouts, the Boy Scouts, Jesuit High School and as Adjunct Professor at UNO. Heim presided over the Association for Healthcare Philanthropy (AHP) Board, the New Orleans Chapter of the Association of Fund Raising Professionals (AFP) and The Touchdown Club.
Edward G. Helm
M.D., M.H.A., F.A.C.S.
LSU School of Medicine
Dr. Edward Helm serves as the Associate Dean of Community & Minority Health Education at the LSU School of Medicine. He has been a part of the LSU medical education system since 1981. He also serves as head of the Section of Surgical Endoscopy for LSU School of Medicine and Medical Director of Outpatient Surgery, Elective Surgery and the GI Unit for the Medical Center of Louisiana. Dr. Helm received a bachelor's degree in Psychology from Minnesota State University, and then completed his pre-med studies at University of Illinois. His Ph.D. is from Chicago Medical School. Dr. Helm has been the recipient of numerous service and achievement awards including the Governor's Award for Outstanding Contributions to Medical Education.
Larry H. Hollier
M.D., Chancellor
LSU Health Sciences Center
Dr. Larry Hollier, a native Louisianan, heads up the LSU Health Sciences Center in New Orleans. He previously served as chief of vascular surgery at Mayo Clinic in Rochester, MN, chairman of surgery at Ochsner in New Orleans, executive director of clinical affairs at Health Care International in Glasgow, Scotland, and chairman of surgery, president and COO at Mount Sinai Medical Center in New York. Dr. Hollier has lectured in many countries and has had more than 500 articles published. He worked tirelessly in the wake of Katrina's devastation to restore the medical center, retain faculty, and set up new teaching services in Baton Rouge. He is also actively involved in numerous major surgical organizations in the United States and around the world.
Luceia V. LeDoux
Baptist Community Ministries
Luceia LeDoux is the director of public safety/governmental oversight grants for Baptist Community Ministries, a New Orleans foundation. She is helping to develop the newly formed Criminal Justice Leadership Alliance, and other of community projects focused on vulnerable populations. After Katrina, LeDoux was a loaned executive assisting a group of nonprofits providing recovery services. Prior to joining BCM in November 2001, LeDoux was assistant Director of the Office of Social Service Research and Development (OSSRD) at LSU. She directed juvenile justice, corrections, addictions and mental health projects and community partnerships providing research, evaluation, technical assistance, specialized training and advocacy. LeDoux currently serves on the Louisiana Public Defender Board by appointment from the Louisiana Supreme Court.
Zella V. May
Z Group, L.L.C.
Zella May is a well-respected community leader and owner of a successful business consulting company. She has made many contributions to the community including playing a key role in the return of the Canal streetcars, and spearheading the recently completed 17-mile Canal streetscape improvement project. May helped pass a City Ordinance for minimum maintenance of building in downtown New Orleans, lobbied successfully to pass Tax Increment Financing for the City of New Orleans and initiated the first Hospitality Rangers program. May has served on numerous boards that include Downtown Development District, Delgado Community College Foundation, New Orleans Sports Foundation, Regional Chamber of Commerce, Regional Medical Complex and United Negro College Fund. She is currently working on initiatives for the At Risk Youth in our community.
Linda Mintz
Linda Mintz, a graduate of Newcomb College with a masters' degree in theater, is a performance artist who has led a career in television, teaching and marketing. Mintz has acted in leading roles in numerous performances at Tulane Summer Lyric Theater, Southern Repertory Theater, Little Theater, The Old Gallery Circle and the Tennessee Williams Festival. She taught speech and oral interpretation at Sacred Heart High School, Newman High School and Tulane University. Mintz has also worked in the radio industry since she was a child and was a storyteller for the New Orleans Public Library and multiple bookstores. She served on the boards of the CAC, Tulane Summer Lyric Theater, Tulane Center Stage, Women's Auxiliary of Touro Infirmary, Sisterhood of Temple Sinai and the New Orleans Council of Jewish Women.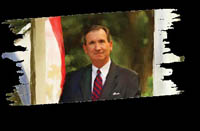 Michael E. Nolan
President
Fifth District Savings Bank
Michael Nolan serves as chairman and president, Fifth District Savings Bank, a mutual saving bank founded in 1926. He earned his law degree from Loyola University and was admitted to the Louisiana bar in 1969. Nolan serves on the board of directors of the American Bankers Association and the Louisiana Bankers Association, and is chair of ABA's Membership Committee. Nolan currently is a board member of the Algiers Economic Development Foundation, Fore!Kids Foundation, producer of the Zurich Golf Classic of New Orleans (former Chair), Our Lady of Holy Cross College (former Chair), Catholic Foundation of New Orleans, and Jesuit High School, New Orleans (former Chair). He has received numerous awards for his service and contributions to New Orleans.


Steven L. Pettus
Managing Partner
Dickie Brennan & Company
A native of New Orleans, Steve Pettus started his working relationship with Dickie Brennan as GM of Palace Café in 1990. While there, Steve enrolled in Loyola University Law School, where he graduated with honors. His education, experience and passion for the restaurant business perfectly suited Steve for his next positions as in-house counsel for the Commander's Palace Family of Restaurants and managing partner of the Dickie Brennan & Co. Pettus is now shared owner of Bourbon House and Dickie Brennan's Steakhouse. He is currently on the board of the Louisiana Restaurant Association, French Quarter–Marigny Historic Area Management District, French Quarter Festivals, Inc., Christian Brother's Foundation and is president-elect of the New Orleans Convention and Visitors Bureau. He also sits on the Cultural Committee of the Bring New Orleans Back Commission.
Al Petrie
Al Petrie Investor + Media Relations
Al Petrie is a financial consultant to the oil and gas industry in Louisiana and Texas and specializes in investor communications and media relations. A native of New Orleans, Petrie is a graduate of Jesuit High and UNO with a bachelor's degree in accounting. Petrie has been actively involved in community and non-profit activities for more than 34 years, including Junior Achievement, Boy Scouts, Parkway Partners, Summerbridge, UNO Advisory Council for the Dept. of Accounting and the UNOP Community Support Organization. Since Katrina, he has been particularly involved in his neighborhood association, Lakeview Civic, and currently serves as its president. He has spearheaded a green spaces restoration project in Lakeview and is actively involved in residential and commercial real estate development.
Kathleen Hurstell Riedlinger
CEO, Lusher Charter School
Kathleen Hurstell Riedlinger is CEO of Lusher Charter School, orchestrating its growth from an uptown elementary school of 400 students, to a K-12 charter school educating 1550 students residing throughout the city. During her 26-year tenure, Kathy developed the philosophy of education underlying Lusher's success. The core beliefs of that philosophy are that the arts are not optional, but integral to the education of all children; that while children learn differently, every child must be challenged and encouraged to reach individual potential; and that diversity, experienced in a climate of respect, energizes teaching and learning. Under Kathy's leadership, Lusher was the first school to charter after hurricane Katrina. She currently serves as president of the Louisiana Alliance Charter School Cooperative– East Bank Collaborative, which advocates for sustainable charters and policies to promote student success.


Mark Romig
VP of Marketing and Public Relations HCA-Delta Division
A native New Orleanian, Mark joined HCA (the nation's leading provider of healthcare services)–Delta Division in 2008. Prior to joining HCA, Romig served as president of Peter A. Mayer Advertising's Public Relations Division and was a confidential executive assistant to then U.S. Secretary of Transportation Elizabeth Dole. A graduate of UNO, he holds a bachelor's degree in hotel, restaurant and tourism administration. Romig is a member of the board of directors of the Emeril Lagasse Foundation, Fore!Kids Foundation, the North-American Interfraternity Conference, Longue Vue House and Gardens, the Sugar Bowl Committee and the TKE Educational Foundation. Romig serves as a member of the City Park Board of Commissioners, Executive Leadership Council of the American Cancer Society (NO Chapter) and producer of the annual PGA TOUR event in New Orleans.


Marcia A. St. Martin
Executive Director Sewerage & Water Board of New Orleans
Marcia St. Martin serves as the first woman and first African American executive director of the Sewerage and Water Board of New Orleans. She has offered innovative approaches to logistical development, problem solving, human resource management, operating and capital budget administration and project planning. St. Martin previously served as deputy director of the S&WB for almost 12 years, director of the Department of Safety and Permits and parking administrator for the city's Department of Streets. Marcia serves on the board of Water for People USA and WFP Canada, an international humanitarian organization that helps communities throughout the world that lack access to drinking water, sanitation and hygiene education. She is a member of the numerous water agencies and associations and is an active alumnus of St. Mary's Academy in New Orleans.
Bruce White
Coconut Beach Volleyball Club
Bruce White is the founder of the Louisiana Outdoor Volleyball Association and co-founder and of Coconut Beach Volleyball Complex in New Orleans. He also founded the New Orleans Jazz Volleyball Club, of which he acts as head coach. He is the chairman of the Rules Committee for the Amateur Volleyball Association, sits on the national board of directors for the Amateur Volleyball Association, is director of officials for the Eastern Volleyball Association Tour and is the regionaal director for the AVP Next Program. He is the head volleyball coach at St. Martin's Episcopal School, having previously served the same position at Dillard University. White has helped raise more than one million dollars for local and national charities and organizations such as The March of Dimes, The Catholic Archdiocese, Leukemia Society and Children's Hospital.