John "Spud" McConnell
Beloved Local Radio Host Moves to TV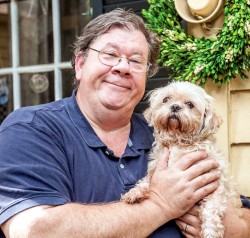 John "Spud" McConnell has one of those voices that New Orleanians have come to know, love and trust. The host of WWL radio's The Spud Show for more than 10 years, McConnell is now coming out from behind the microphone and stepping in front of the camera, with his own weekly TV show, The Spudcast, airing on WLAE.
Though he may be best known as a radio personality, McConnell is no stranger to the screen. He has appeared in more than 40 films, including O Brother, Where Art Thou?, Django Unchained, 12 Years a Slave, and Interview with the Vampire; and on TV series, like Roseanne and Treme. He currently has recurring roles on WGN's Underground and Sundance Channel's Hap and Leonard series.
The stage was McConnell's first love, having received his bachelor's degree in theater from Nicholls State University as well as a master's degree in theater from Louisiana State University. He has played many colorful characters on stage, including notorious Louisiana politician Huey P. Long in a one-man show called The Kingfish on two separate occasions, and Huey's younger brother Earl K. in Earl Long in Purgatory. McConnell says his favorite role, though, was that of John Kennedy Toole's antihero Ignatius J. Reilly from A Confederacy of Dunces.
"Ignatius is a character unparalleled in literature," says McConnell, who was even the model for the character's statue along Canal Street, which he sees as a true honor. "I may never have an Oscar, but I have a life-size statue! Yep, there's Rocky, John Wayne and me!"
Though he seems to be just about as Naturally N'Awlins as they come, McConnell has only called New Orleans home since 1994. He grew up in Gonzales, and, after receiving his master's degree from LSU, he started his career as a stand-up comedian in Baton Rouge. He spent several years on the road doing standup, living in both New York and Los Angeles, before he met his wife, Maureen Brennen, while performing in New Orleans and decided to stay.
In his new role as a TV show host, McConnell plans to follow his radio show's interview-style format, with his quick wit allowing him to combine hard-hitting political discussion with general silliness. "We're going to have fun, but I'm still going to ask the important questions," he says. "I'm a taxpayer, just like the viewers, and I want answers!"
McConnell's unique ability to hold politicians accountable on the air, but make them laugh while doing it, is one of his many strengths that made him the city's No. 1 radio host for so many years.
"I want to inform people, but I want it to be fun," McConnell explains, noting that so much of today's news is rather depressing, but he sees it as his responsibility to offer a balanced program that is both entertaining and informational. "We're going to tell people what they need to know. We're not going to totally ignore the ugly stuff, but we're not going to focus on it either."
The Spudcast will also welcome local musicians, artists and performers, and conversation will focus on local events and, of course, food.
"We'll end with a segment called Off the Eaten Path, and my wife and I will visit little neighborhood places, mom and pop restaurants, that we love and not a lot of people know about," says McConnell, explaining that fans will be encouraged to submit their favorite undiscovered neighborhood gems via email or on his Facebook page, Spud's Friends & Fans.
The Spudcast debuts June 3 and will air Wednesday evenings on WLAE from 6 to 7 p.m., and will re-air Thursdays at 2 p.m. and Saturdays at 6 p.m. It will also be available as a podcast on nola.com. facebook.com/thespudshow