Great Places for Thai Food
La Thai Cuisine
4938 Prytania St., 899-8886

This stylish, upbeat restaurant has nicely settled into is new Uptown digs and continues to churn out authentically styled Thai cuisine with a distinct New Orleans flair. For starters, don't miss the pecan-crusted Louisiana oysters fried to crisp perfection, placed atop a succulent artichoke-leek ragout and finished with a tri-pepper chile glaze. Mama's Hot and Sour Soup is richly flavored and substantial, which is atypical of many versions. For lighter choices, try the Naked Shrimp Salad, a combination of tricolored peppers, mango, cherry tomatoes, bean sprouts and grilled shrimp tossed in a mango-peanut dressing or the Tuna Tataki Salad over mixed field greens and drizzled with a lime-wasabi aioli. Favorite entrees include Merlin's Crabcakes, which are chock-full of jumbo lump crab, placed atop sautéed veggies and garnished with a sweet chile glaze, or the Thai-Coon, a sensational blend of jumbo shrimp, Louisiana crawfish and veggies, sautéed in a spicy garlic-basil sauce, then placed atop delicately fried eggplant. The bar boasts some of most intriguing and satisfying cocktails in town!
Basil Leaf
1438 Carrollton Ave., 862-9001

This warm and inviting restaurant is adorned with a colorful Zen-like wall mural, depicting a gigantic Buddha who gazes upon diners. Portions are generous and servers are knowledgeable and congenial. Scrumptious appetizers such as the ultra-tender, fall-off-the-bone, slow-roasted Thai pork ribs, topped with a delicate honey-soy glaze, and the crispy golden-fried calamari rings, served with a luscious spicy-sweet chile garlic sauce, are sure to whet your appetite. The Tom Kar, a light coconut broth with chunks of chicken, is simply stunning. While Phat Thai is one of the restaurant's best sellers and is an excellent example of the famous dish, it's hard to resist the Kaffir lime chicken, flavored with Kaffir limes that are grown on the premises, and the basil chicken, which marries tender sliced chicken with a mélange of vegetables and fresh sweet basil in a savory sauce that perfectly balances sweet and spicy.
SukhoThai
1913 Royal St., 948-9309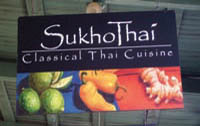 Rustic yet charming, this Marigny eatery is ideal if you're a fan of heat, as Thai chiles are practically worshipped and play a vital role in the majority of the dishes. The menu features a unique offering of classic Thai flavors along with a healthy dose of curry-infused dishes, both of which are equally delicious. Start with the Ahi Katsu Roll, a yummy combination of Asian breadcrumb-encrusted tuna, served with a spicy yellow curry dip or the succulent Petit Softshell Crab, served over fresh greens with a spicy garlic aioli. Seafood fans will delight in the Seafood Clay Pot, a divine combination of mussels, shrimp, fish, mushrooms, onions and sweet basil dished up in a mouthwatering, spice-laden broth. The Kaffir lime curry, a tasty blend of green beans, sweet basil, bell peppers and your choice of meat, is accented by an intriguing (and sweat-inducing) spicy red curry sauce seasoned with Kaffir lime leaves. The signature Three Flavored Fish, a whole fish deep-fried to perfection and served over veggies in a triple-flavored chile sauce, is a must!
Singha Thai Café
413 Carondelet St., 581-2205

Those in search of quick, tasty and affordable Thai food head to this bustling CBD hot spot for lunch. Service is always friendly and fast, getting busy professionals back to work on time. Arrive early before they run out of the delicate yet flavorful Thai fresh spring rolls, or enjoy a cup of Tom Yum Koong, a tasty broth perfectly flavored with lemongrass, shrimp, mushrooms and a hint of chile. Other favorites include the chicken curry, tender sliced chicken breast with bamboo shoots and bell peppers smothered in a spicy red curry sauce, and the ginger fish, a crispy fried filet of fish topped with onions, mushrooms, celery and bell peppers and served in a savory ginger sauce. Also available is a notable selection of noodle dishes, including classic pad Thai and a few unique choices like the vermicelli crawfish, red crawfish curry over Thai rice noodles, and Royal Duck, a generously seasoned duck breast in a richly flavored brown gravy served over pasta.
Siamese Thai Cuisine
6601 Veterans Blvd., Metairie, 454-8752

This casual and unpretentious Thai eatery boasts an extensive menu, featuring flavorful classic dishes, some of which do pack a heated punch (the menu indicates heat level, starting with medium and advancing to extra Thai spicy). Specialty starters include the Golden Wings, stuffed with ground chicken and bean thread then deep-fried and served with a refreshing cucumber sauce; Chicken on Fire, Thai barbecue chicken served with garlic sauce; and Kang Som Seafood Soup, a delectable combination of mussels, shrimp and squid; and squid salad with cilantro, onions, lime dressing and roasted curry paste. The Drunken Noodles, spicy Thai style noodles with basil, green chile and onion, are particularly toothsome, while the Kung Prik Poa, pan-fried shrimp in a curry butter sauce served over lettuce, and the cashew nut chicken, sautéed in roasted curry paste with water chestnuts and cashews are both sure to please.
Bangkok Thai Cuisine Restaurant
513 S. Carrollton Ave., 861-3932

Nestled along the river at the foot of Carrollton Avenue sits this unassuming Thai favorite that churns out exceptional examples of traditional Thai cuisine. The extensive menu is packed with an array of tasty delights, making it difficult to choose. The beef salad is a simple and savory blend of grilled beef mixed with lime juice, onions, fresh cilantro, crushed roasted rice and mint leaves. Duck dishes, like the roasted duck curry, with pineapple, bell pepper and basil, and the sweet and sour duck, with tomatoes, cucumbers, pineapples, carrots, mushrooms, baby corn and onions in a Thai sweet and sour sauce, are exquisitely prepared so that the skin is crisp and crunchy, while the meat remains moist and juicy—not always an easy feat. Seafood also fares well in the seafood eggplant dish, a heavenly combination of sautéed scallops, calamari, prawns and sea bass with chiles, garlic, eggplant, basil, onions and bell pepper, and the delicately flaky ginger sea bass, sautéed with garlic, fresh ginger, baby corn, carrots, mushrooms and onions.