Musicians and filmmakers join forces to rebuild the city and protect Louisiana's wetlands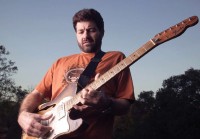 Tab Benoit is passionate about two things: music and Louisiana's wetlands.
Houma has always been home, and his Southern roots run deep. "I grew up on the bayou, spent a lot of time in the swamp and in the woods, camping and fishing, learning how to live off the land."
Now he spends a lot of time on the road playing music that's blues-driven and soulful, fueled by R&B, country and Cajun influences. "I think you know at an early age," Tab told me recently about performing, "but tend to get talked out of it by family and friends. It just came to a time where I would get more offers for my music, people would want me to play for this or that. And next thing I knew I was making a living at it." His powerful guitar and husky voice weave through songs inspired by Southeast Louisiana living. "All my writing's been done somewhere in the swamp or in my boat, or something like that, you know, where I can get back to myself, Mother Nature and God."
The past few years have been busy. Tab appeared in and provided original music for the IMAX documentary Hurricane on the Bayou; was nominated for a Grammy for Best Traditional Blues Album (Brother to the Blues) in 2006; won B.B. King Entertainer of the Year at the 2007 Blues Music Awards; and was awarded Contemporary Blues Male Artist of the Year in both 2007 and 2008. His latest album, Night Train to Nashville, is Tab at his finest. "It's a live record, me and Louisiana's LeRoux; Kim Wilson from the Fabulous Thunderbirds; Jim Lauderdale, a songwriter out of Nashville; and Jimmy Hall from Wet Willie. It's a great lineup of guys. Jumpin' Johnny Sansone [and] Waylon Thibodeaux play on it. It was a lot of fun to do." The performance that inspired the album will soon be available on a DVD of the same title.
A former pilot, Tab fights to save Louisiana's receding wetlands. He spearheads Voices of the Wetlands (VOW) Foundation and Voices of the Wetlands Festival, along with a powerful group of other local musicians: Cyril Neville, George Porter, Johnny Vidocovich, Big Chief Monk Boudreaux, Anders Osborne and Dr. John, plus Thibodeaux and Sansone. Last month marked their fifth annual music and food festival at Southdown Plantation in Houma. "What we do is invite all the groups—the Corps, the oil companies, environmental groups and the levee boards—so people can ask questions for themselves. I don't want to force-feed people, but this is very urgent." Tipitina's Foundation, Friends of New Orleans and VOW joined forces at the Democratic and Republican national conventions a few months ago. "It was an opportunity, we all felt, to get our voices heard. When I left to play at the Republican convention, Hurricane Gustav was right over my house [and] when I got up there to speak, I could just see the heads turning and walking away."
Tab explains that the river levees are the problem, not the levees built around cities as protection, but the ones blocking the natural flow of the Mississippi River. The river built the land we live on by continuously depositing sediment, replenishing tributaries and marshes. The loss of the delta means the loss of natural resources, wildlife and vegetation. "We're losing the coast at an acre an hour," says Tab. "We didn't need hurricane protection levees until we lost all this land. Every year we have to worry more about a storm coming into the Gulf. Katrina and Rita took 217 square miles of land in just a couple of months and killed over 300 million trees." Even more land was lost after Hurricanes Ike and Gustav. November marks the end of hurricane season, but with the next one just around the corner, Tab believes residents need to band together and speak out to government officials.
Why such a staunch advocate? "Knowing that there's a way to help others. Even if it doesn't always look like you're helping or that it's making a difference, there's still that chance that it could." And when it comes to his music: "Does it come out honestly? If it does then I've done my job."
For more information about Tab Benoit, VOW or to order Night Train to Nashville, visit www.tabbenoit.com.