In Her Element
New Orleans native Heather Silbernagel Somers launches interior design showroom Élan Studio, specializing in creating a classic, sophisticated ambiance for both commercial and residential spaces.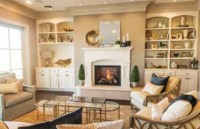 Energetic, stylish, enthusiastic … these adjectives are not only synonyms for Élan, they are apt descriptors for Heather Silbernagel Somers who recently opened Élan Studio, a brand new interior design showroom on Metairie Road. "I wanted to be approachable but still have this elegant viewpoint," Somers says.
Growing up as the daughter of Charles L. Silbernagel, a talented and well-respected local architect who owns his own firm ClS Architects, it seemed natural for Somers to follow in her father's footsteps. "I started to pursue an architectural degree at LSU and I just decided that something was driving me to interior design," Somers says. "It was just more me than simply stepping into my dad's firm as an architect."
While Somers pursued her degree, she also worked at the Baton Rouge firm McMillin Interiors where she learned "hands-on" experience, and, after graduation, she created and managed the interior design department at her father's firm. Somers quickly realized that there was a great demand from the firm's clients for the complete package. Not only did customers desire an architect, they wanted an interior designer, an all-in-one solution to their needs. "There was a big push for an actual showroom," Somers says. "My clients wanted to see more fabrics, more furniture, more everything!" Recognizing the demand for a large showroom, it seemed like kismet for Somers to open her own studio to act as a sister-company to ClS Architects. "Élan Studio came to life because I needed a space where I could spread out," Somers adds. Frequently, Somers and Silbernagel will collaborate on projects that reflect their work as a partnership, highlighting both architecture and design throughout the process. They recently custom designed a new residential construction for Bill and Melissa Dares, a local couple who sought the team to build their dream home.
After a year of searching for the perfect space, Élan Studio finally became a reality when Somers discovered a location for lease on Metairie Road near Canseco's Market. A stunning showroom flaunts the studio's dedication to offering expressive, luxurious and inspirational surroundings to suit both residential and commercial spaces. From furniture and décor to lighting and fabrics, Élan Studio offers products and services of impeccable quality designed to help clients express their own unique style. Somers and her staff are almost zealous in their efforts to provide their customers with the very best. "I love what I do," Somers says. "I wake up every day excited about my work and I don't feel like I'm going to a job."
Whether clients are seeking to redo one room or the entire house, Élan Studio offers a varied array of packages created to suit individual needs. From product purchasing and installation to paint color consultations, and tackling new construction homes and offices, Somers seeks to find the perfect fit for each and every customer. "I really try to connect with clients, hone in on their lifestyle and what precisely they're trying to achieve," Somers says. Élan Studio will even create a fully customized interior design package if none of the offered services are a good fit.
Since Élan Studio opened in Nov. 2015, Somers stumbled upon a niche aspect of the interior design business that she had not previously considered. "Since I opened, there have been several people who have walked into the shop and looked at our tabletop displayed in the showroom and asked, 'Oh! Do you offer a bridal registry?''" Somers says.
Soon the creative wheels were turning, and Somers, elated at the opportunity, designed a specialized bridal registry that outlines three specific packages formulated from the services already offered to regular residential clients. The first, a room-by-room package, provides an in-home consultation and creation of a step-by-step guide to beautify one room of the new couple's home — including an overall concept, furniture layout, shopping list and suggestions on re-purposing existing pieces. There's also a paint color consultation package and an accessory package, both of which are reasonably priced gifts that any newlyweds would appreciate.
1509 Metairie Rd., (504) 267-2792, elanstudionola.com