Arts: February 2017
On Sunken Ground: Guthrie Contemporary presents a new exhibition of artwork by Jennifer Shaw.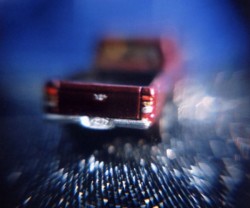 Flood State is a new series of photogravures (a photogram process of laying objects onto a light-sensitive material and directly exposing a copper plate below) now on view through Feb. 15 at Guthrie Contemporary. Through this exhibition, artist Jennifer Shaw addresses the challenges involved with building a home on vulnerable land — a topic we are all too aware of here in Louisiana. In Flood State, Shaw imagines a dreamlike floating world.
Shaw's tableaux feature children's toys and other found objects — such as sushi grass, plastic nets and grocery bags — arranged in a surreal yet familiar manner. In one example, a fish swims past a row of shotgun houses, while, in another, a figure with crawfish hands stands rooted on the ocean floor, surrounded by and at home with marine life. Overall the exhibition offers up an optimistic sense of wonder, and invites viewers to imagine a new life for themselves, in an underwater world. Shaw asserts that the people of Louisiana are resilient and will fight to remain in their home regardless of what adaptations may be necessary. Artwork ranges from $100-$125. 3815 Magazine St., (504) 897-2688, guthriecontemporary.com
Hotel Art: The Aloft New Orleans Downtown recently unveiled two exciting new art installations.
The gorgeously hip hotel known as The Aloft Downtown New Orleans, which opened in 2015 with 188 spacious, loft-like guest rooms, offers a bevy of options to satisfy an art-minded visitor (whether local or from afar). The Aloft is known for its loft-inspired rooms and vibrant social scene, all offered in a modern tech-savvy environment. For example, guests can sip on tasty cocktails in the W XYZ bar, while listening to live musical performances during the Live at Aloft acoustic shows on Thursday and Friday nights. The hotel also recently unveiled two new art installations that are a must-see.
The first is a series of portraits by New Orleans artist Josh Wingerter, which will be in rotation at the hotel through March. His passion for painting came from a moment in his life when self-expression became a form of emotional catharsis — something most artists can identify with. Wingerter's work can be described best as "graffiti on canvas" with vivid hues and layered textures speaking from the canvas below.
The second installation is a permanent custom art wall created by Austin, Texas-based Tenderling Design that was commissioned specifically for the hotel. The wall features schematic characteristics of iconic New Orleans landmarks and images hidden throughout. Be on the lookout for images such as the St. Louis Cathedral, crawfish, a paddle wheel, Mardi Gras masks and more. The piece is both digitally designed and hand drawn. 225 Baronne St., (504) 581-9225, starwoodhotels.com/alofthotels
Carnival Collection: The Historic New Orleans Collection hosts Mardi Gras-themed tours of its Louisiana History Galleries.
Guided tours at The Historic New Orleans Collection, entitled "Rites, Rituals and Revelry: The History of Mardi Gras in New Orleans," are designed to explore the Big Easy's unique carnival traditions. The tours cover everything from celebrations of the colonial period to today's popular superkrewes and everything in between.
Through the use of items from the institution's vast permanent holdings, THNOC's docents will lead visitors on a journey through time to discover the history and evolution of our favorite past-time. The tour begins with celebrations during the French and Spanish colonial periods and continues through the development of parading krewes — such as Comus and Rex — to the arrival of Social Aid and Pleasure Clubs and Mardi Gras Indians. The one-hour tours are being offered Tuesday through Sunday at 11 a.m. and continue through Feb. 24. Admission is $5 or free for THNOC members. 533 Royal St., (504) 523-4662, hnoc.org