The Young One
While "only" 85 years old, the Tallerine House still has a sense of history
In age, the home of Leonard and Janet Tallerine may be the "baby" on the Preservation Resource Center's Holiday Home Tour (December 13 and 14), where seven generous homeowners open their doors for all who visit to come away inspired.
But what the house, built in 1923, lacks in age, it makes up for in grace, style, proportion and provenance.
The first owners of the home, located at 1323 First St., were Dr. John Barnwell Elliott Jr. and his wife, Noel, who reigned as Queen of Carnival in 1898. In 1941, the Elliotts sold the brick Federal-style house to the Charles Dunbars, who raised their son, George, who became a famed contemporary artist, in the house. In a tribute to the artist, a large painting by Dunbar hangs on a wall above a grand piano.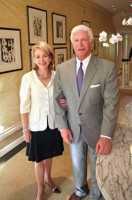 The Tallerines saw the house in May 2004 and bought it on the spot. Like others before them, they were swept away by the marble floor center hall, the dining room with its fine cabinetry and impressive Zuber "Scenes of Paris" wall covering. The inviting scale and proportions match a meticulously executed floor plan.
Much of their five-year marriage has been spent working on their First Street home, merging two families, varied interests and developing new ones together. She was a fine arts major and an MBA, with a career in investment management; he is a native Texan, an oil man, with a handsome collection of sporting art. Together they study and have begun to collect American paintings and European works on paper.
"After we bought the house, we realized we needed to expand it to accommodate our new, delightfully larger family. We hired architect John Chrestia and contractor Tim Lacey to update the kitchen, second-floor bathrooms, master suite, the 85-year-old elevator and turn what was once a third-floor attic into a guest
suite. Then Katrina hit. We had both water and structural damage, so the expansions, repairs and landscaping all took longer than we had planned.
"In all honestly, my husband is a wonderful perfectionist and adores outdoor and landscaping projects. So he called in designer René Fransen to transform the gardens. They tore up the yards to install state-of-the-art
lighting and irrigation systems and installed a new fountain and its wall flagstones and walkways. Leonard knows the name of every plant, bush and tree! For the longest, there was work going on inside and out. I'd say we are finished, but I don't think anyone's ever really finished with a house," laughed the petite blonde as she draped a chandelier in the kitchen with holiday greens during our interview.
"I worked with Denise Pearce on the interiors. The faux-painting treatments on the walls, woodwork and some ceilings were there; but with time and water damage, they needed to be refreshed. Other than in the dining room, we took our color palette from the antique Oushak carpet in the living room. It's tonal: beige, wheat, celadon, platinum and pebble-gray." The comfortable upholstered furniture was designed by Pearce. Tallerine had antiques in her pervious Uptown home, and the duo has slowly added to their collection. "I never rush to fill a space. I think rooms evolve; I'm disciplined. Locally, I shop at Soniat Antiques and love to buy and sell at auction. I never come away from an auction without learning something."
The home may be the youngest on the tour, but it may also be the most comfortable: formal but totally livable. A place that dogs, children, guests and the couple can come, go, enjoy and still marvel at the style and grace of a place that 100 years from now will stand up to any of the antebellum homes on future PRC Holiday Home Tours.