Soul of a Superstar
Nancy Wilson, the iconic guitarist, singer and songwriter of Heart fame finds an exciting rock-and-soul groove with her new band, Roadcase Royale.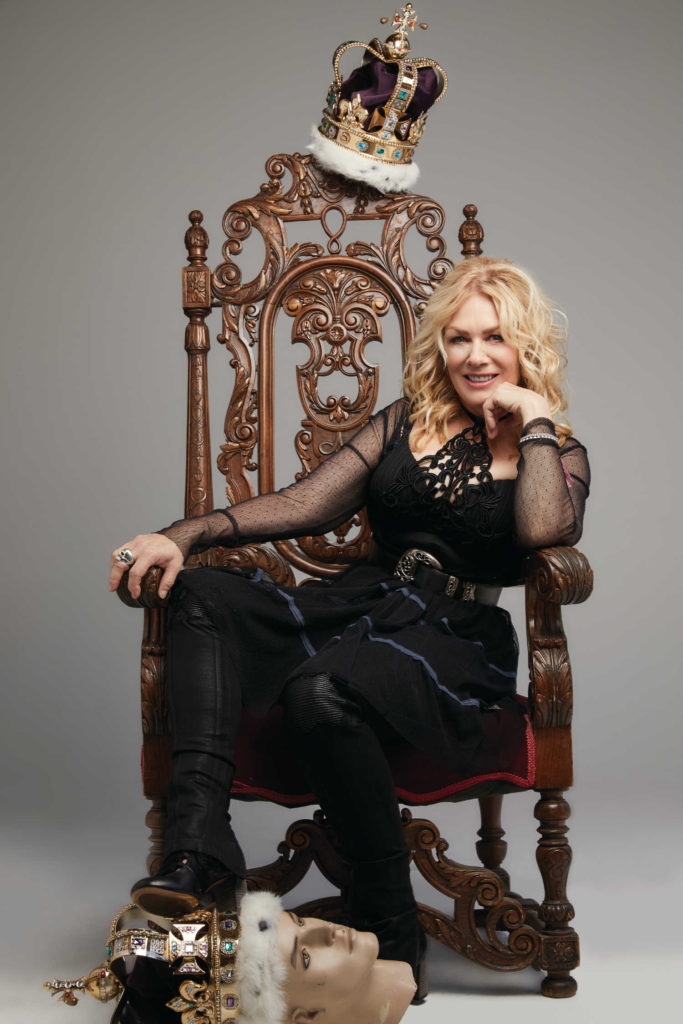 When her legendary Grammy-nominated rock band Heart needed an opening act for their two shows at the Hollywood Bowl in 2015, iconic guitarist, singer and songwriter Nancy Wilson turned to powerhouse R&B vocalist Liv Warfield, formerly of Prince's New Power Generation, to fill that coveted slot. After seeing her amazing live performance on Late Night With Jimmy Fallon, Wilson was struck by Warfield's overwhelming energy and presence, and invited both Warfield and her guitarist Ryan Waters, also a Prince protégé, to play the two dates. A rapid fire connection was made between Wilson and Warfield, and, later, when Heart took a hiatus, the band Roadcase Royale was formed, melding Wilson's illustrious rock background with Warfield's soulful stylings to create their exhilarating, impactful new sound. Roadcase Royale also features Waters and three members of Heart: bassist and main producer Dan Rothchild; keyboardist Chris Joyner; and drummer Ben Smith. Their impressive freshman album First Things First debuted in the fall, and Wilson is optimistic and enthusiastic about sharing their new rock-and-soul heavy blend of music with the world.
"It is so uplifting and so healing for me to be in this band," Wilson says. "It's an inspired democracy because we're all bringing the songwriting, production and energy to it. Everyone is in it for the same reason, for the right reason and there are no ego trips or power plays. It's a very versatile rock band, and we can do anything from an acoustic show to great big arena stages and just rip down the house. Right now this is a honeymoon. It can't last forever, but maybe it can!"
It's easy to see the intrinsic, natural chemistry unfold between Wilson and Warfield when Roadhouse Royale performs, with each contributing the unique artistic talents they're famous for to forge a welcome blend of soul-stirring fresh music. After Wilson played in Heart for decades alongside her big sister, the incomparable vocalist Ann Wilson, a family assault in 2016 brought Heart to a halt for the time being, and Wilson forged another sort of sisterhood with Warfield.
"Liv and I feel so lucky to be in this new situation, and we've become fast friends," Wilson says. "What you see on Liv's face shines through her eyes, and her great beautiful smile is who she really is. When we started to get to know each other better, we realized that we both had gone through some pretty painful situations of losing someone. For Liv to lose her mentor Prince was like losing a family member, and I feel like I kind of lost Ann quite a bit in many ways, and, until we all figure that out, I still have a pretty deep sense of loss about that. So Liv and I are kind of cheering each other up, saying, 'Hey check us out right now! We're this cool new rock band; we've got these new songs; and we've got a record and all this energy that's so positive,' and I'm gushing. Liv's got her own complete character and style and signature sound, and we do too as a band I think, so it's really cool because it's new all over again to have that kind of identity."
Roadcase Royale released their album Sept. 22, First Things First, which features songs that run the gamut of soul-stirring sound and emotion, including punch-packing bluesy riffs, hushed hymn-like inspirationals and funky, pile-driving rock, with lyrical topics that span from political divisiveness to love. Two famous Heart songs got a re-do for the album: the beautiful hit ballad "These Dreams" was revived for the upcoming film Molly's Game, and the smash rocker "Even It Up," was treated to a slinky funk-up.
Roadcase Royale's first single, "Get Loud," is fresh and immediately evocative, with a message fit for the current female empowerment movement. "'Get Loud' came out in January before we finished the album because of the women's marches that were happening at the time, and it kind of became an anthem for a few of those marches," Wilson says. "It's funny — it was in the '70s when women's empowerment was a new way of saying things, and it seems pretty new again lately. All the harassment stuff that's come out of Hollywood lately, oh geez! It's almost kind of surreal how thick the trouble is that we're in. It's sort of like you have to talk yourself in to watching the news. It's like, 'Oh! I was in such a nice mood before I turned on the TV or looked at my phone!'"
"The Dragon" is another standout song off of First Things First about slipping into the grips of addiction; it has a Seattle-in-the-1990s feel to it, while still retaining a modern sound. "That was the same time that I wrote it; it has that real dissonance to the guitar part." says Wilson of the song that she wrote for late Alice in Chains lead singer Layne Staley. "There's so many ways that people can fall prey to different addictions, and opioids is one of the big ones today. It's crazy to see how easily people can be taken down that road. Everyone has their own thoughts of, 'Okay, I've got to live super healthy and I've got to do better.' For some people, it's bigger than they are and they have to work harder to avoid being taken down that terrible path that they may not come back from. My bass player Dan Rothchild helped me finish the one part I could never find, all those years later. I sing a lot more in Roadcase Royale, so it makes sense to have an extra song for me to sing so I'm happy that it worked out."
After seriously looking forward to playing live all around the United States this past fall to support First Things First, Wilson unexpectedly has been home after a planned tour with Bob Seger was cancelled due to an emergency involving his vertebrae; currently the tour is being rescheduled. "I'm usually gone all the time," Wilson says. "It's like, 'Okay, the weather's nice; the dogs are here in the kitchen; it's all feeling pretty good,' but it was a shock. We were ready to take this music to our audiences. When Bob feels better, we'll get back to it."
Roadhouse Royale had a show outside of the Seger tour planned this past October in New Orleans at the Joy Theater. "New Orleans is just one of a kind — it is its own city," Wilson says. "There's only one New Orleans that is even remotely like New Orleans! It's got so much color, so much beautiful sound and one of my favorite memories was walking on Decatur. I wrote a song called "Decatur Road" that's on a compilation album called My Favorite Martin, which is instrumental stuff. I'm really looking forward to getting back to New Orleans. The food was beckoning the whole band. We were like, 'Okay, where are we gonna eat? Where are we gonna get our oysters? Where are we gonna eat étouffée?' And we were all in on doing the touristy stuff!"
Zapped by lightening is the sensation that 9-year-old Wilson and her 13-year-old sister Ann felt as they watched The Beatles' highly anticipated performance on The Ed Sullivan Show in 1964. Afterwards, the young girls started doing air guitar shows in their living room and trying out their best English accents. "The Beatles are the reason we even picked up guitars," Wilson says. "We already had music deep in our family, but then it had to be 'guitars,' then it had to be 'get a band,' then it had to be 'let's not try to marry The Beatles; let's be The Beatles.' Our mom was so strong and encouraged us to follow our bliss and follow the joy that we were going to get from doing music. Even though we went to college and kept up with school for a little while, we knew what we were going to do and we went and did it. You know, Heart is a good band and hopefully it has some future still left to it. After me and Ann can finally figure out what that is, that would be great."
Since their rise to fame in the mid-1970s, the Wilson sisters have enjoyed an illustrious musical career with Heart, and their accolades include selling more than 35 million albums worldwide, having earned 20 Top 40 singles including "Magic Man," "Barracuda," "Crazy On You" and "Alone," scoring four Grammy nominations and being inducted into the Rock & Roll Hall of Fame in 2013. Since the early days of flying around arena stages across the globe and playing her trusty guitars with pure gusto, Wilson has been beloved as an enormous inspiration for both women and men who aspire to rock.
"I've come to understand my role better," Wilson says. "Initially I didn't think, 'Well I'm up here presenting for women!' I was just up there trying to be like The Beatles, which was a fairly androgynous approach to being a musician.
I could have power, while I would play a big loud guitar on a big stage and just mostly channel some of my inspirations like Jimmy Page and Paul McCartney. I kind of stole a lot of my moves from the big rock gods and people would ask, 'Whoa! How do you maintain your femininity and still be a loud rock chick?' I didn't understand that question exactly. I just felt completely free at my young age to just do whatever it was that I needed to learn how to do, but when people started putting a gender on it, like 'Well that's pretty good for a girl,' I was a little confused. But yeah, it's really cool. I don't know what else I would do at this point! I could work with dogs!"
Wilson will soon get the chance to work with dogs; in 2018 she will serve as an honorary celebrity chair for the Louisiana SPCA's Howling Success Patron Party & Gala. "Dogs have always been a huge part of my life," Wilson says. "I've rescued a few dogs and found quite a few dogs. An important part of being a human is to have a relationship with a dog because, in general, I think people should take lessons from dogs about loyalty, love and unconditional forgiveness, because they're not stupid! Dogs are magic; they're life savers and they are heroes. They need as much rescue, understanding and family life as human beings need. I've got only two dogs at the moment, but when my kids show up with their dogs — it can be five at a time — then the pack mentality sets in. Thank goodness I've got a big backyard." roadcaseroyale.com, @officialnancywilson and @NancyWilson