Distinguished Living
An iconic New Orleans couple takes their treasures to higher ground
Like its owners, the apartment is artful, gracious and embraces life's finer things with no pretension. When their Uptown home was flooded by Katrina, many of the English antiques the couple had collected were destroyed. And so, they packed and took up condo living on a grand scale.
"The small Renaissance Revival metal tables, circa 1850, were two of the few things on the first floor we could save. Fortunately, most of the art hung on the walls or stood on pedestals, so they survived," explains art patron and antique connoisseur Walda Besthoff.
Even more fortunately, most of the couple's monumental art had been placed, for all to enjoy, in the Sydney and Walda Besthoff Sculpture Gardens, the tree-studded, lagoon-laced five-acre area in City Park, which stands adjacent to the New Orleans Museum of Art. Two other pieces, a Noguchi fountain and a George Rickey sculpture remain at what was once the K&B Plaza. (Katz & Besthoff was a well-known chain of drugstores throughout the region. At one of them, Sydney Besthoff met his future bride while working behind the counter as a soda jerk.)
The condo, in one of the city's most prestigious buildings, offers sweeping vistas of the Mississippi River, French Quarter and the bridge farther Uptown. With commanding views from every room, it would be easy to have the focus shift to the exteriors, but a mix of objects, old and new, light and dark, brings the rooms into harmony.
The wall between the living and dining room was removed, leaving the view unobstructed. Anchoring the
room are a pair of Boulle marquetry commodes, circa 1700s, stamped "E. Levasseur & B. Molitor"; an L. Boudin Louis XV commode; and another Boulle Louis XIV commode, circa 1700, stamped "Colas.Sac." These are topped with paintings by contemporary artists such as Charles Bell, Wayne Thiebaud and Janet Fish. A Robert Graham bronze and Giacometti coffee table pair perfectly with the Louis XVI gilt marquise chairs stamped "G. Jacob." Shelves hold a collection of Chinese porcelain, most of the Kangxi and Qianlong periods.
But make no mistake; this is a home not a museum. The grand piano, which sits near a stunning antique circular dining table, surrounded by Austrian Empire chairs, is not for show. The mistress of this domain plays. Plays very well.
The Besthoffs are unquestionably one of the city's most stalwart supporters of the arts. Their involvement in creative endeavors includes not only NOMA and the Contemporary Arts Center, but projects such as Prospect.1, the citywide biennale, which closes mid-January. The walls and halls of their home are studded with contemporary art both abstract and photo-realistic: Tom Wesselmann, Barry Flanagan, George Dureau, Morimura, Stone Roberts, Mark Leithauser, on and on.
A visual ebb and flow is created as the rooms move from light to dark. The light-filled, marble-floo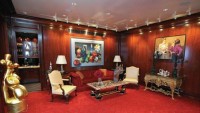 red living-dining room accesses a dark, serene wood-paneled study, which leads to the couples' large, cheerful bedroom, which leads, again, to a wool-paneled office used by Sydney. Kitchen cabinetry reminds one of a quilted Chanel purse; the guest suite is filled with things somewhat more traditional and sentimental. Closets, bars, storage and such are hidden from sight.
For the record, the only K&B purple to be found in the new apartment is in an oil on canvas with a glitter painting by Robert Kushner. It was purchased because it made Sydney think of Mardi Gras, not the drugstore's signature color.