Garden Delight
On the edge of New Orleans lies an idyllic estate surrounded by lush vegetationWhen you visit Garden Lane, the exclusive enclave that stretches a wee bit more than a block on perhaps the fanciest fringe of Orleans Parish, one expects to find a good garden.
At Steve and Dana Hansels', you get three gardens, along with a mini-basketball-tennis-whatever court hidden behind trees and an expansive view of the perfectly manicured greens of the New Orleans Country Club golf course.
"We bought the house from the Diefenthal estate in 2003," explains Dana, who along with her husband, serves on several boards and is well known for philanthropic efforts. "After renovating the inside, we started working with Rene Fransen on the initial outside plans. Then Katrina hit and everyone's world turned upside down."
Indeed, the 17th Street canal flooded many homes and estates, so it comes as a bit of a surprise that though the Hansels' gardens suffered damage, the 1930s' structure, which sat on one of the highest points in the area, did not flood. "Still, it meant putting plans on hold for a bit."?? Afterward, Dana adopted her usual "can do" stance and moved forward, with sod, plantings and all. "Reed Richardson created the pool based on Rene's plans, and Rene oversaw the patio and deck area, which has given us such memorable experiences: hosting our son's wedding, dining on the patio with family and friends,
entertaining New Orleans Museum of Art's patrons, celebrating family and friends' birthdays and more! Because we didn't lose too many shade trees and we back up to a golf course, it's delightful almost year-round. The area has become simply an extension of the house. But we needed so much flagstone for the pool and deck area, I was on first-name basis with the supplier in Arizona!"
The garden in front features a large circular drive and is covered with shade trees and edged in monkey grass. The garden in the rear of the house is flanked by the pool area and a secret, or meditation, garden, which instantly evokes serenity and features a settee at once lyrical and absolutely immobile. "It took six men from the Plant Gallery to install it," said Dana with a laugh. "Trust me, that bench is going nowhere!"
The view from the rear of the house is of a graceful iron gate, which allows for a view of the country club fairway. "Because of the course, we get beautiful light from sunrise to late afternoon. It's quiet and serene … no one shouts on a golf course, except every now and then 'fore!' And with all the light, everything grows incredibly well.
"We're working with Tim Martin, a horticulturist. I walk around behind him and take notes. I've really become a student," continues Dana, whose enthusiasm for gardening has placed her on the board of the New Orleans Botanical Garden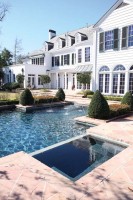 Foundation, which assists the WPA botanical garden within City Park.
There is also a garden on a side entrance, where cement lions sit as sentinels and all the plantings are meant to work in relationship with soaring columns. But, hold on, there is also a ping-pong table. Typical of the Hansels' approach to life: A garden grows, but it should also be a place to sustain life, cherish family and embrace the changing season.