Nowhere but New Orleans
Mardi Gras memorabilia and Louisiana treasures make this historical house a home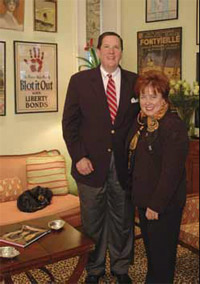 When the James Freret home, circa 1880, came on the market some 10 years ago, John and Emay "Bonnie" Boyd snapped it up. Others may have been daunted by its historical provenance, 14-foot ceilings and condition, but not the Boyds, who love the challenge of a task they know they can do well. "The house needed work. At times it has been a bit of a money pit, but any house of this era and importance is certainly worth it," says John, the president and CEO of Alamo Services, which provides support and security for conventions and special events. "We looked at it as an opportunity to get a lot of furniture, paintings, and things out of huge storage and into a home. There was stuff from my family, Bonnie's family and much we had acquired over 20 years of marriage. Actually, we had more than we realized."
Of the house, Emay explains, "John and I definitely did not want it to seem a museum … no matter how historical. So we again turned to Mary Ferry Bigelow who knew us and knew how to pull our things together via paint, carpets, furniture, fabrics and placement."
The house is, indeed, large. Massive double-hung windows flood the downstairs "public" rooms with light. A double-wide center hall, painted in Jane Churchill's "Mimara" red from England, is centered with a round American Empire mahogany table. A graceful staircase leads upstairs.
On one side of the hallway, doors fold back to reveal a dining room painted almond, with a Chippendale table and chairs, usually set for 12, and now decorated for the Carnival season. On the other is a double parlor painted in a youthful Martin Senour "Sweet Rene" rose. Both rooms have matching marble mantelpieces, thought to be original to the house and two great chandeliers. An adjacent smaller parlor, painted aubergine, houses a delicate antique piano, an early Louisiana chest on chest of Mardi Gras mementos and first-edition books and a tall cabinet also filled with antique and vintage Carnival ephemera.
The Boyds have amassed more than 2,000 pieces of Mardi Gras memorabilia including over 100 Rex pins, a Comus cup and Comus queen's crown and regal jewelry (Bonnie's grandmother's), invitations, krewe favors, antique silver bonbon dishes, French posters and travel treasures.
And then there are the replicas of the Eiffel Towers that Bonnie admits being crazy about. "Poor John. In the beginning he had his doubts. Now when he spots one, even in plastic he just drags it back home," she says with a laugh. "He didn't even knee-jerk when I found a doorbell that plays "Le Marseilles."
The formality of the grand parlor's family heirloom carpets, piano, camelback settees, petit point Shepherd's Crook chairs, give way to a playful family area that wraps into a large, very workable kitchen, breakfast room and series of storage closets, some the size of a junior studio.
The family room, kitchen and large powder room are carpeted in leopard-print rugs from Brown & Dammer. Everything from a large TV to an iPod is tucked into a custom-made armoire painted to blend with the "swamp green" walls lined with hand-painted posters. A Sheraton sofa, covered in coral Henry Calvin fabric, is the preferred perch for Hilda, a long-haired dachshund rescued by the Boyds and surely their most important treasure. A pair of high-backed chairs, upholstered in a Scalamandre tapestry fabric, flank a game table.
The Boyds and designer Bigelow turned even small spaces into special places. Connecting the breakfast room to the small parlor is a minuscule hall turned into a library via trompe l'oeil wallpaper by Brunschwig & Fils. Under the stairwell in the hall sits a table, lamp and family photos near a small papier mâché chair. Another perfect place for Hilda to snooze.
"There may be a lot of crowns, scepters and such in this house, but the truth is that Hilda rules all year around here," says John. And, indeed, wearing her Carnival collar, the little dachshund swoops down from the sofa and trails off to see who is ringing her doorbell.