The Roosevelt's New Deal
The glitz and glamour of a historic hotel gets restored with a multimillion-dollar makeover
Competition among the city's luxury hotels is about to get heated this summer when one of New Orleans' most storied landmarks—the Roosevelt Hotel—reopens as a Waldorf Astoria Collection property later this month.
Developers spent almost $145 million to repair, remodel and restore the 116-year-old downtown hotel, which was most recently operated as the Fairmont before closing in 2005 due to flood damage after Hurricane Katrina. The historic building first opened as the Grunewald hotel in 1893 and was later renovated and renamed the Roosevelt in 1923 in honor of President Theodore Roosevelt. The name was changed to the Fairmont in 1965.
Backers of the new Roosevelt will bring back the old Roosevelt's Gilded Age grandeur by restoring the ornate plasterwork, antique molding and gilded flourishes in the hotel's enormous lobby. They've also found hidden gems like the intricate tile mosaics in the lobby that had been covered up by carpeting for years, as well as delicate wall sculptures and carvings that had been masked by drywall in previous renovations. A replica of the hotel's iconic neon sign is also going atop the building at 123 Baronne St.
"We have a real commitment to the legacy of this property. This is not a renovation, it's a restoration," says Mark Wilson, hotel director of sales and marketing. "It's really taking this building, which was stripped down to its bones, and restoring it to the type of grand hotel it was in the 1930s and 1940s."
To get an idea of the level of detail they put into the process, workers spent more than a year and a half just restoring the dozens of ornate crystal chandeliers in the lobby and ballrooms. That meant rewiring lights and cleaning over 16,000 strands of crystal, says spokesman Jim Lestelle.
The Roosevelt will bring back the legendary Sazarac Bar, a landmark known for attracting politicos like Huey and Earl Long, as well as the Blue Room, a famous supper club from the 1930s through the '60s that hosted legendary performers, from Louis Armstrong to Sonny and Cher. There will also be new amenities such as a coffee/dessert lounge, a patio garden pool bar, a 12,000-square-foot spa and Domenica, an Italian-inspired restaurant by John Besh.
The hotel will also have many new upgrades. Crews reduced the number of rooms to 504 in order to increase their size and accommodate 135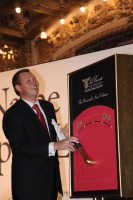 luxury suites and seven large Waldorf-Astoria suites, which will feature 24-hour butler service. Dropped ceilings are banished, as are the old return-air vents that dotted each guest room door. Rooms now have high ceilings, king-size beds, flat-screen TVs, marble-topped furnishings, large closets and bathrooms with a modern, inconspicuous HVAC system.
One of the largest portions of the renovation involved updating the infrastructure of the historic property. "All of the electrical, heating, plumbing and cooling systems had to be re-created and rebuilt because it was all out of code," Wilson says. Some of the old knob-and-tube wiring had fuse boxes with old copper pennies stuck inside.
The new Roosevelt will also have state-of-the-art accommodations for meetings and conventions, with three large ballrooms and 23 distinctive meeting and event rooms that span two floors. The largest will be the 20,124-square-foot Roosevelt Ballroom, which will feature "air walls" that quickly convert the room into five smaller spaces to accommodate meetings of various sizes.
As a luxury property, the hotel will target the convention and meeting market in addition to well-heeled leisure travelers. Wilson expects as much as 80 percent of the hotel's guests will be executives in town for meetings or trade shows. It's a pretty traditional client mix for hotels in the Central Business District, Wilson says.
Of course, the hotel will also heavily target locals and their guests through special events and traditions. Wilson will bring back the elaborate "angel hair" lobby decorations for the holidays and, starting in the fall, Sunday brunch in the Blue Room. He also plans to market the ballroom to brides. "We should do 80 weddings a year here," he says. "We should be a beacon of social activity."
The Roosevelt's official grand opening is planned for October when all of its amenities will be complete. Domenica will open in August around the same time as the Guerlain Spa, which will be one of the largest downtown. The spa will feature ten private treatment rooms, two wet areas and six dry treatment rooms. The wet areas include Vichy Shower treatments that consist of a full-body exfoliation on a cushioned table with five to seven showerheads cascading water on the body.
Room prices are expected to range from $139 in the summer slow season to as much as $409 per night during peak events. Wilson says that the hotel has strong bookings for June and July, which are traditionally soft months for New Orleans.
Wilson is optimistic about booking for the rest of the summer, which is predicted to be a challenge for most hotels due to the recession. In fact, many luxury properties are struggling nationally as corporations trim travel and meeting budgets, says Jeff Higley, vice president of digital media and communications for STR, a Nashville-based hotel industry research organization.
"It's a very, very difficult time to bring a luxury property online now," Higley says. The AIG effect has corporations running away from staying at luxury properties as fast as they can run."
In fact, nationally, occupancy rates fell 15 percent in the first quarter of 2009 compared to the same quarter last year. Revenue per available room also fell 29 percent during the same time.
The silver lining is that the New Orleans luxury market seems to be faring better. Occupancy here for luxury properties is down only 12 percent and revenue per available room is down 20 percent. "The luxury hotels in New Orleans are definitely performing well on their own," Higley says.
STR predicts that the market will begin to stabilize toward the end of the year when the Roosevelt and the New Orleans tourism season hits their stride. Wilson sees a bright future for his hotel this year and beyond.
"To tell you the truth, we're pretty optimistic about where we're positioned for this year, and we certainly have our work cut out for us."