Pro soccer player and model Lance Parker lets us in on his diet and exercise secrets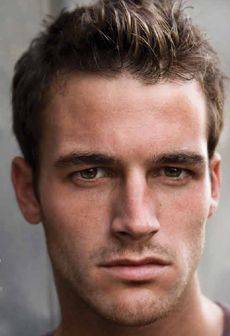 Professional soccer player Lance Parker is an impressive and striking member of the Major League Soccer team Chivas USA, based in Los Angeles. An all-around athlete who also enjoys weight lifting and playing golf, Parker was born and raised in Oklahoma City, where he spent his childhood exploring and enjoying the exhilarating outdoors. At the age of 12, Parker became an elite soccer player in his home state and went on to play Division 1 soccer at Missouri State University, which he attended on a soccer scholarship and graduated from cum laude with a business degree. His hard work and dedication to the sport of soccer, along with his solid character traits, have helped make him into the outstanding sports figure he is today.
At first glance it's easy to see why Parker was encouraged to embark into the world of modeling, another exciting venture that's been a total natural for him. Recently, the gorgeous goalkeeper has been featured in Men's Health, Cosmo Men and others—and New Orleans Living wanted to feature him as well! The super-fit soccer pro, who knows a thing or two about diet and exercise, shared some healthy tips with us, which we can seriously use during this decadent season of Mardi Gras! And get this: This charming country boy with a city-boy edge relishes visiting New Orleans every chance he gets, so don't be surprised if you see this extremely good-looking sportsman about town enjoying the best of what our fabulous city has to offer. And ladies, if you can believe it, Parker is still available—so get in line now!
You've always been athletic and have played many different sports. What made you choose soccer as a career?
When I was 12, I had the opportunity to go over to England and play in a tournament. I had always loved playing soccer, but that is what really jump-started my desire to take the sport as far as I could, and hopefully, play for a living some day.
Your dream came true! How exciting is it for you to play soccer with the Chivas USA team in Los Angeles?
It's my dream job! I've been extremely blessed to spend my first two years playing professional soccer for Chivas USA. It's a great club with great fans, great teammates and a great coaching staff. I'm truly thankful for this experience.
How long have you lived in L.A. now? And what culture shock, right, going from Oklahoma and Missouri to Southern California?
I've lived in L.A. for two years now. Although it's quite different from Oklahoma, for a country boy, I think I've done pretty well adjusting. The traffic took a while to get used to, though. Just going across town to see a movie or have dinner means leaving the house about an hour and half early to make sure I get there on time! But the weather is great. I was back home for the holidays and we had some blizzards. Even though the snow is nice, I have to say I was excited to get back to L.A. and hit the beach—in January!
You are in such great shape! What diet do you follow to stay healthy?
I eat plenty of protein and complex carbohydrates, as well as healthy fats. I try to stay away from simple carbohydrates, bad fats and too much sugar, and I drink as much water as I can throughout the day to stay hydrated, and I never drink any type of soda. I eat the same breakfast every day, and that's what gives me the energy I need to get through practice every morning. Breakfast is the most important meal of the day, and you should never miss it. I eat four egg whites and one whole scrambled egg, one English muffin toasted with two tablespoons of almond butter, one cup cooked oatmeal topped with one cup frozen blueberries and eight ounces of pomegranate juice. It's a lot, but I think it's best to make breakfast your biggest meal of the day. It provides you with the nutrients you need, so you don't crash halfway through the day.
Why is incorporating protein into our diets so important?
Protein is what your body uses to build and repair tissues. Getting protein in your body as soon as you finish working out helps to repair broken-down muscles and helps them recover faster than they normally would without that protein.
Why should people stay motivated to stick to a diet and exercise plan when they aren't seeing immediate results, especially people who made healthy resolutions for the New Year?
Whatever your personal goals are, whether it's losing inches off your waist, losing body fat or gaining muscle, stick to your diet. There is no secret diet plan that will give you instant results. After a few weeks, if you stick to your personal diet and workout plan, you should notice a difference. In turn, this will give you more motivation to see further results. Eating healthy and working out regularly has to be more than something you do just a few weeks out of the year—it has to be a lifestyle. It's okay if they fall offtrack, just don't let that be an excuse to stop all together. Get back into your exercise routine and diet plan as soon as you realize you've gotten offtrack.
Do you ever indulge in eating whatever you want?
I like to indulge in unhealthy foods every once in a while. It's important to eat things you really enjoy every now and then or you'll go crazy and end up gorging and pigging out. Each week I pick one meal to eat whatever and as much as I want, especially Mexican or good ol' fried chicken! Also, eating a little something sweet after a meal is all right. It signals your brain that the meal is over and also satisfies your sweet tooth.
Why is it so important to do both cardio and weight-bearing types of exercise?
If you are trying to get or stay in the best shape possible, it is important to do both.  Having a good cardio base makes for a stronger heart and brings you a lot of health benefits. Lifting weights leads to stronger muscles and more muscle mass. If you are trying to lose weight, it is crucial to lift weights, because the more muscle you have, the more calories your body will burn each day.
For someone who hasn't been in a healthy exercise or eating routine in a while, where is a good place to start?
Start with an easy exercise that's not too strenuous and won't make you really sore for the next week or you'll be less likely to stick with your exercise routine. Take a long walk or a light jog, as well as lifting some light weights. Drink lots of water. You can cut many calories each day by not having that cup of coffee in the morning or soda at lunchtime. Also, often when you think you're hungry, your body is really just dehydrated and needs water. If you drink water, even when you aren't thirsty, your body will stay hydrated, and you will feel full. This also helps you not overeat at each meal.
Eating healthy and regularly exercising is a lifestyle, but how can people who aren't in that mindset get there?
Take it one step at a time. If you try to be perfect right out of the gate you will fail and that will discourage you from continuing on your plan. Try changing one thing in your diet and exercise at a time, such as not drinking any soda or juice and walking for at least 30 minutes every day. And if you do get sidetracked from your plan, that's okay. Just recognize it and get back on track as soon as possible.
You must have been flattered to be asked to appear in such magazines as Men's Health, Cosmo Men and Sports Authority.
When I got the calls about the castings, I was blown away to even be considered! And then to end up booking the jobs were a huge honor, not to mention totally cool!
What goes on during a modeling shoot? Is it what you expected?
Modeling is mostly what I thought it would be like: grooming, wardrobe changes, the normal routine for these types of jobs. In the beginning, I was a little shy, but it didn't take long for me to get comfortable. In a short time, I have been fortunate to work with some amazing photographers and celebrities. A recent job I had was with Cindy Crawford and that was off-the-chain cool for me as a newcomer to the industry. I mean, she's the world's most famous supermodel and just a great person! She totally sets the standard for all models to follow.
You are a big fan of New Orleans! When did you first get hooked on New Orleans and what do you think sets it apart from any other place?
My first visit to New Orleans was for a soccer game when I was younger, then several times as an adult over the past few years. The people there are so great! You won't find more hospitable folks anywhere. They are the city's most important assets!
What do you love to do when you visit New Orleans?
Brian Edwards, my Client Relations Rep, is from Covington, and he recently hosted two special events at the W Hotel New Orleans that I attended back in the fall with some of his other clients and friends like Playboy Playmate of the Year Tiffany Fallon and country legend Pam Tillis. We all had a blast! He really knows how to throw a party and made sure the schedule was filled with stops at his favorite spots that made the weekend totally rock. Of course, the W Hotel is totally awesome; the bar is great for late-night fun, and Zoë has really unique dishes. A riverboat dinner cruise was mandatory, as well as beignets at Café Du Monde every morning! The crawfish étouffée and chocolate bread pudding at Ralph & Kacoo's was out of this world! And one of my favorite dinners was at Commander's Palace—you can't go wrong with anything on the menu at the city's finest restaurant, that's for damn sure! And not to mention it has the best staff in town!
You enjoy watching other pro sports, and I hear you're a fan of the Saints too. This city is going wild over the boys in black and gold right now! Isn't it amazing what team spirit can do to unite a city?
I really enjoy watching all the highlights of different sports on ESPN and getting to see all the insane plays that today's athletes are pulling off. And, yes, you have to love the Saints! It's great when a team can do so well and get the support of the entire city behind them. And New Orleans Saints' fans are among the most loyal of any team ever!
We have plenty of soccer fans here in New Orleans too. We have the New Orleans Jesters pro soccer team, plus we have many Europeans who live here and play in various leagues.
Yes, they have some awesome fans! I actually got to go to New Orleans and play against the PDL team there a few summers back.
Who are some of your athletic role models that you find inspiring?
I admire Lance Armstrong a lot. He has overcome so many things in his life and is still one of the world's top athletes. He is a great example of what hard work, dedication and determination can do in your life. Also, all the U.S. Olympic athletes competing this month in Vancouver have truly inspiring stories.
You got any big plans for Valentine's Day?
Not as yet, Christine, so unless I land a date, I will probably hang out with my single friends and do karaoke night at our favorite hangout in Manhattan Beach or hit this hot new restaurant called Mexico in Los Angeles—the best guacamole in town! Then, of course, hit the gym hard the next day to work it off, geez!
If you do get a date for Valentine's—and I'm sure that wouldn't be too hard for you—what might you do to try and impress her?
I like to find out their interests and then plan events around that or perhaps take her out and do something fun that she has never experienced before. I also like to cook, and I get a lot of down-home style ideas from watching Paula Deen—she is the best! Sometimes I will prepare a nice dinner for just the two of us and have a quiet night together—great food, a movie and just enjoying each other's company.
If New Orleans Living hosts a "Sexy Legs/Sexy Man" contest this year, will you make yourself available and lend a hand—or a leg or two—for that?
Sure! I would be more than happy to come and help out!
You know what I'm thinking? David Beckham needs to watch out!
Ha-ha!
-CHRISTINE FONTANA