Wall-to-Wall Design
Move beyond paint to update your surroundings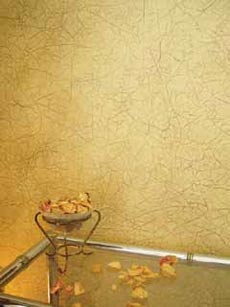 One of the best ways to transform the interior of your home without spending a lot of money is to simply alter the walls. Today's homeowner has plenty of options, including wallpaper, wood, stone, tile or textured paint. If you have money to spend, consider using fabric. All of these options add a new dimension to almost any room in your home. Just think of it as fashion for your walls.
Wallpaper has come a long way in the past few years. Dull, dingy, lackluster tones have given way to eclectic patterns and contemporary colors, like sage, blue, red, coral and eggplant—the hottest colors this season. You can even find wallpapers that utilize natural products and give your walls a more earthy, organic feel. Some wallpapers have there own textures, such as mock-crocodile or fake fur. It just depends on what you like.
I have discovered a talented artist here in New Orleans who creates unique paint textures. Master finisher Cory Michael has skillfully painted a beautiful niche for himself in the competitive world of interior design.
Michael has mastered a variety of age-old traditional paint and plastering techniques. With the infusion of today's technology into product, he has transcended the world of faux-finishing into three-dimensional wall finishes, allowing the observer to literally see into the wall.
"It is important to understand the difference between visual texture and physical texture in creating the perfect wall finish," says Michael. If you look at the surface of marble that has been polished, it has a textural appearance, even though running your hand across it yields no evidence of texture.
Michael creates a smooth textural surface by using layers of thin transparent glazes to enhance the appearance, along with thin coats of lighter-bodied materials that also have transparent qualities. Surfaces that have this physical and visual textural quality can be mimicked by combining the right product (high-quality plaster materials) with the right tools (usually a trowel) and applying certain techniques. The results are beautiful, multi-layered walls.
For those of you who want to be a bit more audacious, consider covering your walls with recycled glass tiles. These tiles come in a variety of colors and add a new dimension to a room. No longer is tile just for the kitchen; the reflective quality of glass lets you to add a modern feel to any environment.
Using wood and stone helps bring warmth into your home and lets you take advantage of products from Mother Nature. There are many natural recycled and up-cycled products on the market that are eco-friendly. Various stones and bricks create layered textures that are inviting to the eye.
Just remember that your wall coverings and paints should reflect your personality. If for some reason you grow tired of what you previously created, you can always replace it with something fresh.
To learn more about Cory Michael, visit www.chetpourciaudesign.com.