Beatles mania comes to New Orleans and then heads to Broadway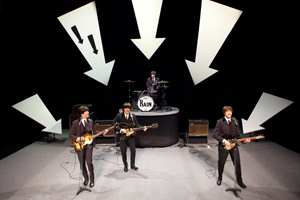 Next up in the popular Broadway Across America series is Rain: A Tribute to the Beatles, from November 3 to 7 at the Mahalia Jackson Theater of the Performing Arts. Rain is a multimedia production with four Beatles look- and sound-alikes performing onstage while concert and news clips put the Beatles' story, and the band's impact on the culture, into perspective. Rain is not a typical cover band, either. The musicians, led by founder and manager Mark Lewis, have performed in concert halls all over the world and, this fall, will also debut on Broadway. Recently I talked to Lewis by phone about the band's evolution and its upcoming shows in New Orleans.
You started out in the 1970s in Los Angeles with a band called Reign. How did the band evolve into Rain?
Our goal was to record our own original music and put out records. To make a living, we played a lot of Top 40 stuff. Because we were such big Beatles fans, we put together a set of Beatles music. People loved it, so we [added] another set, including later songs that the Beatles had never performed live. A club owner in the San Fernando Valley agreed to let us perform a Beatles show at his club on an off night. We didn't know if three people would show up, or nobody at all. As it turned out, it was packed and went really well. We did it again, and other club owners started to book us. Next thing we knew, we had an agent who was booking us as Reign: A Tribute to the Beatles, but instead of "Reign" it was usually misspelled as "Rain." There's a Beatles' song called "Rain" and people made that association, and it stuck. As the years went by some original members went on to other projects and guys from [the Beatles show] Beatlemania joined the group. We started wearing [Beatles] costumes and making it more of a production. We became more popular, playing county fairs and amusement parks. [Now we perform] at huge theaters all over the world.
How many touring companies and performers do you have?
Two shows tour simultaneously, and within each show there are usually about six guys. It's a heavy singing load, and it's hard for everyone to keep their voices in 100 percent strong shape. Beatles' songs are pretty hard to sing, especially when you go into those high keys. When we started to play [more shows per week] we brought in alternate cast members to maintain the high vocal quality. Most shows do that, and most shows don't have nearly the number of songs that we do.
I read that the audience often spontaneously sings or dances along with the show.
Always. Everybody knows the songs. They sing along with whatever they want, but especially songs like "Hey Jude" and the early songs. What really surprises me is the number of young kids who know the words. I'm happy that the younger generation also knows and loves the Beatles.
Do you still perform with the group?
I've become more of the manager lately. Taking care of the band's business while touring was getting a bit overwhelming. So I do shows once in a while, but I'm mainly the band's manager now.
Will you be performing in New Orleans?
Yes. I love New Orleans. I played there many years ago, in Metairie, in Fat City. I think I spent my 25th birthday in New Orleans. There are some cities where I go, "I don't think I have to be there for that one." But New Orleans, I want to be there for this one.
It sounds like Rain takes up most of your time. Do you do any writing or recording on the side anymore?
At home I sit down at the keyboards sometimes and try to write music. But I do not seriously pursue it anymore. Rain has become my career, and I am very proud of that. We're going to Broadway with a band that used to play in little bars and is now one of the top 20 touring bands in the United States. So at this point, what I want to do is hit a home run with this band. What I want to do is make this the most popular Beatles show that ever existed and to make it a historic thing.