Playwright/actor Carlo Alban
puts a compassionate face
on his family's personal
immigration story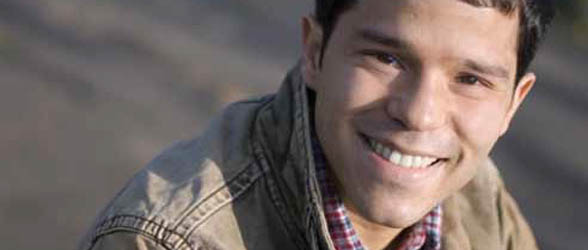 Intríngulis, written and performed by actor and playwright Carlo Alban,
puts a "reasoned, compassionate face on the immigration issue," according
to Variety magazine. The show, which received rave reviews during its
premiere engagement in Los Angeles last November, tells of Alban's
family's move to the United States from Ecuador, and of their 12-year quest
for citizenship. The show is a celebration of the American dream and of
Alban's cultural heritage, a look at the complicated familial relationships
with those left behind and a story of what it was like for Alban to grow up
"in the shadows" even while he appeared as a regular on Sesame Street.
This month, Intríngulis makes its regional premiere at Southern Rep, in a
co-production with New York's acclaimed LAByrinth Theater Company.
Both Alban and Southern Rep's Managing Director, Marieke Gaboury,
are LAB members. Recently, New Orleans Living interviewed Alban about
Intríngulis and the exciting collaboration between LAB and Southern Rep.
You got into acting at an early age.
I started acting when I was eleven, after we had been in the United States
for four years already. But we weren't very savvy as to how things worked,
and we also were illegal at the time. So we were trying to keep a low profile
as well. My parents were not pushy or stage parents.
How did you get involved with LAB?
I did a José Rivera play ten years ago with [LAB founding member]
John Ortiz called References to Salvador Dali Make Me Hot … and [John
and I] became buddies. At the time, LAByrinth had this biweekly open mike night … in the lobby of the Center Stage Theater [where LAB was
in residence]. John brought me to that one night, and that's how I got to
know the company. They invited me to the summer intensive, which is their
yearly retreat, and it was just a good match. That's how it all got started. If
it hadn't been for LAB, I wouldn't have started writing. The company really
encourages people and allows people to explore the nature of their art.
Intríngulis is your first play. What inspired you to write it?
Growing up as an illegal immigrant, you grow up in the shadows. You kind
of act "normal", leading this normal life, and yet you're in hiding all the time.
For me, it was terrifying but also exasperating. It bred a desire to speak out in
me. I think that has been instrumental in turning me into an artist. What is
art, if not communication?
By speaking out about your experience, you're also giving voice to an
important side of the immigration story.
The subject is in the news, but you don't really hear about in terms of
people's personal experiences. People who are illegal can't talk about it, and
people who are [now legal] don't really want to, or else they don't have the
avenues to do so. Once we were legal—and once I became a member of LAB,
and saw the people around me writing and directing and putting themselves
out there—it inspired me to [begin].
When did you start to write the show, and how did you develop it?
I started writing it in 2004. It took about nine months [to complete it]. I
took it to the LAB summer intensive and read it out loud for the first time.
I was terrified. I was convinced it was terrible and that people were going to
hate me. Instead, people loved it. LAByrinth told me they were interested in
helping me to develop the piece. We did several developmental productions
and then premiered it in L.A. [in collaboration with Los Angeles' Elephant
Theatre Company].
Intríngulis is a one–man show, with music. How would you describe it?
It's not the kind of one–man show that, say, John Leguizamo does, where
he really transforms himself into different characters. It's my story, a very
personal, honest story. [Also] one of the inspirations for writing this show
was my desire to share the music that has been so important in my life
and that I find so beautiful. So it's not a musical, but there are scattered
throughout the show about five traditional Latin American songs that I
perform.
New Orleans and New York both should benefit from the collaboration
between Southern Rep and LAByrinth.
I know a lot of people who have worked at Southern Rep, which has a great
reputation for regional theater in the South. Marieke met a lot of people,
being the [Producing] Director of LAB, and she's been bringing a lot of New
York artists [to New Orleans]. It's great to see that connection happening,
and that kind of interaction and that kind of networking. The face of theater
is changing, and the business of theater is in a precarious place right now.
One of the best chances we have of surviving is for companies to collaborate
and create a real network across the country. We're all in it together.