Leave No Stone Unturned
From granite to quartzite and everything in between, the Stone
Gallery gives you the materials to turn your room into a showroom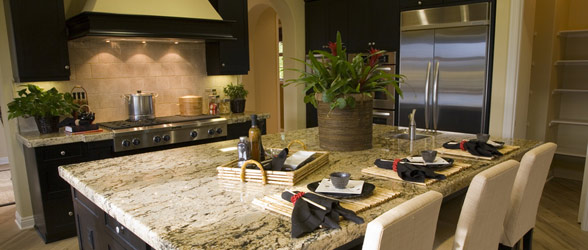 Sometimes giving a room
a face lift, an update or an
exciting new look involves
more than ordering new
monogrammed towels,
replacing artwork, adding
colorful cookware, moving
furniture or accessorizing with
fresh flowers.
A kitchen may seem to cry
out for new countertops or a
kitchen island. A bathroom
may yearn for a luxurious
vanity. Any small change
can breathe life into existing
cabinetry, making all those
inspiring ideas gleaned from
countless shelter magazines a
reality.
It's far easier than you think,
as I discovered one sunny
afternoon when tootling
around the Stone Gallery in a golf cart with Johnny Altobello Jr., the
owner, who pointed out various marbles, granites, travertine, limestone and
quartzite that stand row upon row on his acre lot in Harahan. Altobello and
his wife, Carolyn, opened in 1999, and while there are many retailers and
middlemen in the New Orleans area, Altobello is, to my knowledge, the
only stone wholesaler in the area.
Pointing to an extraordinary slab of poison-apple green and blood-red stone,
Altobello told me it was onyx. "It's a very soft, elegant stone; it's translucent,
so it works well for treatments that use backlighting. It's not inexpensive,
and it certainly makes an impact if used on walls. But I wouldn't
recommend it for a vanity, as its delicate and scratches easily." So much for
my onyx idea.
My husband was along for the ride, but he clearly couldn't keep his mind
on the job. "Are you related to the famous Coach Altobello?" he asked,
speaking of the man who ran many De La Salle High School sports
programs. "That was my dad," Altobello replied, with clear pride. (I could
see respect growing in my husband's eyes. He would clearly have preferred to
talk sports than soapstone.)
Altobello, whose facility sells whole slabs, half slabs and remnants—a
boon to those doing small jobs—took us through Stone Basics 101,
dispelling myths, explaining practicality and use and clearing up a lot of
misconceptions.
"The first thing you need to know about me is I believe nothing can
compete with the beauty found in natural stones. Manmade materials are
popular, and I work with them, but my first love comes from the enduring
appeal of what comes out of a quarry. Maybe it's my Italian blood."
Here's how he broke things down for us:
Marble is a naturally veined or mottled stone that comes in many colors.
It is used on countertops, bathroom floors, walls, islands and baker's
tabletops. It's harder than soapstone but not as hard as granite. It polishes
well. Over time it will show
scratches and stains if not
maintained, but I like
that look; there's a patina
that well-worn marble has
unlike anything else. In
older homes it looks age
appropriate.
Soapstone is another
old-fashioned stone that's
been used for years in
kitchens, pantries, etc. You
see it in all the kitchens in
the historic mansions of
Newport, Rhode Island.
In hardness, it's between
marble and granite; it
doesn't conduct heat, so
you can put a hot pot on it
and not worry. Achieving an
"aged" look is easy: Just cut,
chop or bang a few pots and
pans on it; the reverse of this is that it's easy to maintain with a light rubdown
of mineral oil.
Granite is harder than marble, polishes well and can take a beating in
places like the kitchen. You can cut on it and put hot pots on it. If you
have heavy-handed people, you might want to handle the fine porcelain
yourself, because granite is so hard, it can lead to chips and dings in china
and crystal. It comes in many colors and textures and is quite an amazing,
practical stone.
Quartzite is harder than granite and rarer in nature, thus more expensive.
It has all the same great qualities as granite and can be polished to a glass
finish. It has a luxurious, fine-estate esthetic to it. Because it's a form of
quartz, it has a gemlike appearance; I least I think it does.
Manmade products, such as Caesarstone, are generally made of stone
that's ground into dust or chips then mixed with epoxy. The mix is heated
to form a very durable material that mimics a number of natural stones.
This material can be poured to create large slabs or molded into shapes.
These manmade products are tough, take a lot of wear and tear and are easy
to maintain. They are often as or more expensive than natural stone; then
again, some can be far less. There is no restriction on color: You can have
faux lapis or taxicab yellow.
Altobello pointed out that natural stone also works as well outside for
tables, furniture tops, as edging along a garden border or slabs creating a
pathway. "Why waste a single inch of stone? If you are going to do an island,
vanity or countertops, simply tell your fabricator you want all the scrape
pieces. You might get two or three different uses out of a whole or half slab.
I tell people to take all the extra pieces and store them. You never know
where you might have use for them in the future."
He's right, of course. A 12-by-12-inch piece of marble is a perfect service
to roll out dough on. Pebbles can surround a camellia bush and even an
unfinished edge mini slab can be turned into a perfect host for barbecue
platters and equipment.