Eating Your Way to Victory
Quivering cubes of gelatin, juicy slices of syrup–splashed pineapple—not the usual way you'd take a Mojito, a Gin Collins, or a Piña Colada, but beginning this month, that's how Daniel Victory will serve them at his namesake gastropub.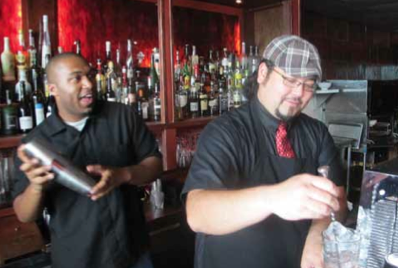 "People aren't used to eating cocktails, but they're all drinks you've tasted before," said Victory, who co–owns the bar with longtime friend Andrew Emery.
There's a novelty factor to ordering cocktails that are cut at the bar like sushi and eaten with a fork, but here the flavors translate beautifully from glass to plate.
The pale green Mojito is sweetly lime (in a fit of deconstruction, Victory drizzles thick mint syrup on top); likewise, the fresh pineapple (swiftly vacuum–sealed with dark rum, to keep the fruit full of snap) becomes a skinny Piña Colada when he adds coconut glaze.
The toughest essence to capture is the faint fizz of a Gin Collins, which is usually topped off with club soda, but Victory resolves that by shooting soda into the gelatin mold (already plump with gin, lemon juice and simple syrup) while it's setting. The soda lends crispness to this lemony gelatin, set al dente.
Presented as a trio, these edible cocktails are potent, packing the same amount of spirits as a six-ounce cocktail. Victory is also playing with a Ramos Gin Fizz mousse, which would add heft to the cocktail's naturally frothy state.
Along the edible line, Victory is also experimenting with spherified cocktails—basically, suspending elements of a drink in tiny gelatin caviar balls. Deconstructing a Sazerac in this way, you'd have different balls holding anise, bitters and rye whiskey in a shot glass, and misted with lemon.
It's an exacting science in an industry that demands consistency, and the ability to keep ingredients stable well into the night.
Victory is also engineering reverse cocktails, based on juices (cucumber–like aloe and pomegranate, for starts) that are misted with spirits like scotch, used here like bitters.
Why tinker with them at all? "You wouldn't have four steaks somewhere, and then go eat steaks somewhere else," said Victory, an award-winning mixologist and a Bombay Sapphire brand ambassador. "We should drink like we eat, and put thought into it."
To that end, the Victory Bar has hired a culinary consultant, Chef Carl Sealey (with kitchen experience at both Commanders' Palace and Café Adelaide) to develop a food menu that reaches into all corners of the globe.
Wood-fired pizza comes dusted with locally sourced Pecorino Romano and swirled with housemade tomato sauce, while Korean pork and beef barbecue arrive in a platter with coconut rice, waiting to be wrapped in wide ruffled lettuce leaves.
"The menu came about as, 'what did you grow up eating?'" said Emery, who's spent much of his adult life in New York City.
The stuffed mushrooms are from Victory's New Orleans childhood; the sticky toffee pudding is English-inspired but also references the Big Easy with a splash of praline liqueur in the mix. It comes warm with a puddle of housemade vanilla ice cream; it's the ultimate date food.
On the lighter side is skewered satay, made with tender chicken marinated in curried coconut milk and oven–roasted, then offered with two dipping sauces—a sultry peanut sauce and sriracha–spiked aioli (and well–priced at $6 a plate). Another healthy bet is the seared tuna tumbled with watermelon, cucumber and wasabi cream in a fresh, soft tortilla.
These aren't exactly small plates, but they're in keeping with increasingly upscale bar food. "We deserve something better after 11 p.m.," said Victory, who keeps the kitchen open "until people stop eating."
Coming up for the kitchen are spirit–infused foods and recommended cocktail pairings, Sealey said.
The Victory Bar is intimate, elegant and smoke–free, with a crackled glass bar top and simple polished tables, handmade by Emery. "We create an experience; it's not just about the cocktails or the food," said Victory. "There's a romantic vibe here."
That loving feeling is heightened by the $7 daily cocktail, a half-size of which comes to you free first, as a teaser. Victory gives mixologists Ian Julian and Steve Yamada plenty of latitude to experiment; recent creations include a cocktail based on fresh tamarind, dark rum and rosemary (a variation substitute the tamarind for equally tropical Youthberry tea).
For his part, Victory sees flavor pairings everywhere. "All great chefs experiment and play, and have passion," said Victory, joyfully blurring the lines between the culinary and the cocktail.
-Anne Berry
—
Lavender Fields
Written by Daniel Victory, courtesy of the Victory Bar
This play on sangría keeps all its florals in the nose, not in the drink.
1.5 ounces vodka
.5 ounce white grape juice
Splash champagne
Mist lavender bitters (Victory makes his own, but a good alternative is Scrappy's Bitters)
Lavender petals
Shake vodka and grape juice with ice, strain, then top with champagne, mist with bitters, and sprinkle with petals.
Serves 1
Victory Bar, 339 Baronne St., 522.8664