DJ Soul Sister plays that funky music and wows the crowds every time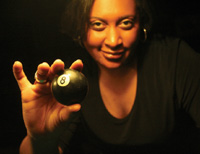 On a mission to spin the rarest, funkiest grooves she can find, DJ Soul Sister is a musical crusader who is spreading the gospel of early funk, soul and jazz to the world. Her weekly gigs at Mimi's in the Marigny and the Hookah Café draw a devoted cadre of both young and old hipsters who follow her every groove. Part music guru, part pied piper, Soul Sister is in such demand that she recently pumped up the crowd as the opening act for funk pioneers George Clinton's P-Funk All-stars at House of Blues. Equally as powerful in intimate gatherings, she served up a unique musical soundtrack at the opening of Elleone, Lionel Milton's hot new art gallery on Magazine Street.
However, her 14-year-running Saturday night "Soul Power" show on WWOZ 90.7 is where she commands her largest audience as she takes listeners on a journey through the universe of rare jazz, funk and soul. In the wee hours between gigs, we talked to Soul Sister about her work and the music she loves to spin.
Recently at Mimi's, all these 21-year-olds were grooving to some old Rick James and Michael Jackson's "Rock With You." How do they know this music, and what attracts them to it?
I hope that what attracts them to the music is the same thing that attracts me to it. It is positive music that feels good on the dance floor. I like warm tones and songs performed in happy chords, so naturally people are going to love the sounds because the sounds are loving them. Does that make sense? The younger kids don't even have to know who or what they're listening to. They still vibe off it because it feels good and translates positivity some 30 years after the records were originally recorded. It shows how powerful and long-lasting good music is.
Where do you find such an eclectic array of albums?
I dig everywhere. I've been digging since I was around 6 years old. "Digging" is the term, short for "crate diggers," for hardcore record collectors who just scour everywhere—garage sales, strange attics, warehouses, record shows, eBay—for vinyl records with the music we collect and love. I dig, I beg. When I was in high school, I made a flyer for all my classmates to pass to their parents and older brothers and sisters begging them to sell me their records. A few of their parents felt so sorry for me, they just gave me their records and I didn't have to pay.
How do you know what to buy?
Well, I look at what other crate diggers look at—producers, album artwork, record label, musicians, arrangers, year. These are clues that help me find the gems. I love funk music, whether it's rare groove-style or old-school funk. I take a lot of chances on records I don't know. I'll buy something just because it looks interesting. Those are usually the greatest finds.
A friend of mine says that artists and disco should not be used in the same sentence. What do you think of that statement?
Hmm, that person should learn the history of disco and what it actually was. So many people have this "oldie but goodie" conception of disco with the stereotypical Bee Gees jokes and the picture of John Travolta with his finger pointed to the sky. Actually, the song credited as the first disco hit was not by someone like the Bee Gees or Rick Dees singing "Disco Duck," or something goofy like that. The first disco hit that people cite is an African funk song called "Soul Makossa" by Manu Dibango, from about
1974. There was a huge underground with tons and tons of rare, fabulous cuts, not the played-out hits that you see on the 1-800 greatest-hits package commercials—and I love to collect and play those, especially on Saturday nights at Mimi's. Those records make me happy. They make everyone happy.
What's the difference between spinning live in a club and doing your "Soul Power" show on WWOZ?
I love both equally, and there are people who listen to me on WWOZ who have never been to one of my parties. Or there are people who come to my parties regularly who have no idea that I've been on WWOZ for over a decade. There are different thrills to both. Being in a club is awesome because I love the live interaction. Doing "Soul Power" gives me a chance to educate more about the artists. At the end of the day, both live gigs and the radio show are ways for me to achieve my goal of spreading the word about good, funky soulful music.
What's in the future for Soul Sister?
Do my mix CD, do more freelance writing, write a book about New Orleans funk, keep collecting. I hope to continue sharing it through my radio show and gigs—making people happy, making them dance, making myself happy, honoring these artists and this music. I mostly hope to inspire other young women to not be intimidated by a male-dominated music industry . . . to do their thing.