Meet + Greet – Cleveland Spears III
Entrepreneurial achiever pays it forward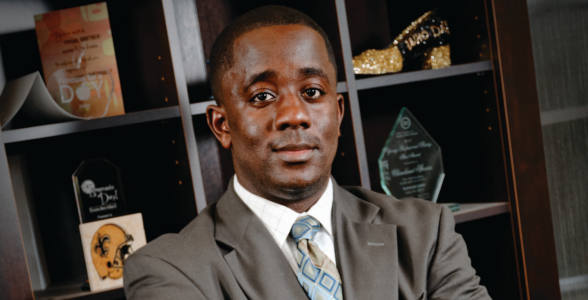 Native New Orleanian Cleveland Spears always dreamed of having his own business. "Something to do with computers or computer networking," he reflected. Born in the lower Ninth Ward and raised in New Orleans East, Spears attended Abramson High School (now shuttered due to the levee failures in 2005) and went on to attain a bachelor's degree in marketing from the University of New Orleans. At 25, he opened Spears Consulting Group. Though it isn't the computer business he had originally planned, the successful marketing company just celebrated its fifth anniversary in July.
Seeking to "pursue and establish working relationships with clients whose needs are closely aligned with the core competencies of the company," Spears Consulting Group has garnered clients such as the New Orleans Tourism Marketing Corporation, the Regional Transit Authority, Entergy, the New Orleans Health Department, Liberty Bank and more. Spears believes in working with the community that he has been a part of all his life through heavily discounted services offered to non-profit organizations like Lemonade Day Louisiana, Habitat for Humanity and Young Leadership Council.
Recently, Spears Consulting Group launched an annual, four-part event series dubbed "The Social Renaissance," tailored to appeal to young professionals across the region. "Le Diner en Blanc" was a pop-up social event held in April. Over 800 attendees dressed in all white were shuttled to a "do-it-yourself" picnic near the banks of the Mississippi River, where they dined on BBQ shrimp and fried chicken. A second event, "The Millennials," was held in July at the Civic Theater to honor "dynamic young professionals under 40" in New Orleans. The third event will be an "International Festival" in mid-October on Lakeshore Drive, and the fourth will be a New Year's Eve blow-out at the Hyatt Regency Hotel. Proceeds from all four events will be donated to local charities.
"I'm always working," Spears admitted, but when he is not busy managing his company and planning the next big social event, he likes to spend time with friends dining out or watching sports. "I'm definitely a Saints fan—a season ticket holder—and I'm hoping to be one for the Pelicans, too."
To learn more about Spears Consulting Group and Cleveland himself, visit the company website at spearsconsultinggroup.com