Clayton Shelvin: Staging Artists' Opportunities
Le Petit Theatre has been a New Orleans institution for a century as of this month, but, with a fresh group of staff members, including associate producer and education director Clayton Shelvin, the theater is providing local talent with opportunities they can't always find elsewhere.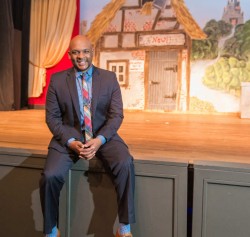 Shelvin explored his love for performing arts at a young age, particularly dancing, band and theater. At Nicholls State University, he studied broadcast journalism until Hurricane Katrina hit, and later transferred to University of Lafayette, where he double-majored in band and theater (graduating in 2009).
Shelvin began working in the nonprofit sector, organizing advocacy programming for teens, and, in this position, he was involved in event planning, which reignited his spark for the performing arts.
"I was booking bands and musical acts and things like that, while I was working, and that piqued my interest again," Shelvin says. "I took this job really just to have a job out of school after I graduated, and it helped guide me back to the performing arts."
Shelvin then moved to New York City where he interned in the education department of the American Theatre Wing, providing career development assistance to college students and graduates interested in pursuing performing arts. There he learned the ins and outs of the industry and met "a lot of great people who took me under their wing," Shelvin says.
After a while, he decided to return home to Louisiana — but this time around, he chose New Orleans. Here he could pursue the performing arts and follow in the footsteps of other young professionals who were "creating opportunities for themselves without having to climb some type of ladder," he says.
While working as a choreographer and assistant director with the New Orleans Recreation Development Commission's children's theater, Shelvin met director Troy Poplous, who took Shelvin on as a choreographer for the production of Hair when Le Petit Theatre reopened in 2013. Shelvin began working for Le Petit Theatre on a contract basis, which led to other gigs choreographing, stage managing and assistant directing around the city.
Le Petit Theatre soon approached Shelvin with an offer for a full-time job as a production manager. Shelvin's role quickly expanded over the next year as he took on positions ranging from artistic director to producer of the theater, which was, to Shelvin, "kind of my hard way into learning everything very quickly."
After Le Petit Theatre hired artistic director Maxwell Williams in Dec. 2014, Shelvin earned his current title, associate producer and education director of the theater. The position is an ideal combination of two things Shelvin wants most in life: involvement in performing arts and stability.
"In theater operations, I found a way that I could be around what I love and still have a little more stability and a sense of security in my work," Shelvin says.
Shelvin now performs dual roles at Le Petit Theatre. As associate director, he does everything from choosing selections for the season and casting to bringing on the technical crew and team of designers. He loves having the opportunity and responsibility of finding new talent and fresh faces in the New Orleans theater scene.
"When I was first in the city going around and watching plays, what I saw on stage was the same people," Shelvin says. "And I thought, 'Wow, this is New Orleans, a city that's full of color and different types of people.' But that wasn't really being reflected on the stages in the city."
As education director, Shelvin channels his love of opening doors for artists by creating education programs that bring kids and young adults into the theater. They also include workshops specific to artists' needs and interests, such as for comedy or auditions. It's all about training and retaining the diverse talent the city brings to the stage.
"New Orleans breeds so much talent, but, for the most part, a lot of this talent has to leave to find work," Shelvin says. "So we do our part in providing opportunities for people to grow and train as artists, and to get up on stage and let people know they're here."
Shelvin is also a faculty member for the New Orleans Ballet Association, a choreographer at Kelly School of Dance in New Orleans East — the oldest African-American dance school in the state — and a board member for Project Lazarus, where he organizes the annual Halloween fundraiser.