Pho-get About It
Vietnamese food offers many delightful dishes beyond pho and bánh mì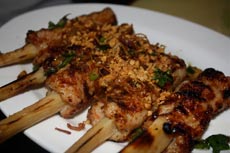 These days, eating Vietnamese food in New Orleans is de rigueur. Everyone knows about the Vietnamese po-boy ("bánh mì"), and do you know anyone who isn't a "pho-natic?" Well, there's more to Vietnamese cuisine than po-boys and soup, and nothing paints the delicious picture better than food photos. Try breaking away from the "usuals" and step out with these dishes from Hoa Hong 9, 1100 Stephens St., Gretna (366-7665), also known as Nine Roses.
Bánh Xèo (also known as Saigon Crepe)—This is a wonderful starter for several people or a main course for one. The crepe is light and crisp with a faint coconut flavor. Inside you'll find delicate cooked shrimp, tender pork slices and crisp mung bean sprouts. Bánh Xèo is served with a basket of lettuce and herbs to be torn and tossed over a wedge of crepe, then splashed with tangy, chile-flecked nuoc mam sauce. My favorite place for this dish is Nine Roses.
Chao Tom (shrimp paste on sugarcane skewers)—Another dish that can be shared as an appetizer or a complete meal. Finely ground shrimp and spices are pressed around sugarcane sticks, then char-grilled and topped with green onions, fried shallots and crushed peanuts. The condiments for this dish include the basket of lettuce, herbs and julienned pickled vegetables, rice papers to soften in warm water and use as wrappers, and a thick, spicy peanut sauce for dipping. Nine Roses is the only place I know of that offers this dish.
Bánh bò hap (sweet sponge cakes with coconut sauce)—This cake, made from rice flour, sugar and yeast, has a honeycomb-like appearance and a spongy texture. Often the little cakes are colored green, pink, yellow or purple, though the color is just an appearance device, imparting no flavor. Bánh bò hap are served in rounds, wedges or little dumpling shapes (or flowers at Nine Roses). The accompanying sauce is coconut milk–based, sweetened with sugar and balanced with salt. This is a gorgeous dessert, crossing many taste and textural sensations.