A Full Plate
From pork to peppers, there's a food festival to match any craving
At my house, October is called the Month of Lorin. My birthday is on the 11th, my anniversary is the 31st (yes, Halloween) and October happens to be my favorite month. Why? Well, it's all about black and orange, cooperative weather and crisp, cool air. Not to mention the serious uptick in food fests as we "fall" into the new season. Here's a taste of what's on the plate each weekend in October.
October 10–12

Tamale Fiesta
The Mississippi Delta may have a Hot Tamale Trail, but husk-for-husk, Louisiana's hot tamales are tops. It may be corny, but Zwolle's Tamale Fiesta (www.zwollela.net/tamale.asp) gets festivalgoers wrapped up in tamale tasting, making and eating while celebrating the food's native Indian and Spanish culinary heritage.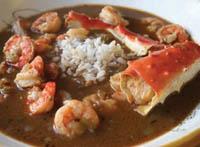 Gumbo Cookoff
New Iberia is all about gumbo (www.iberiachamber.org/gumbo.php), with styles and flavors varying from traditional (seafood, chicken and sausage) to esoteric (wild mushroom, rabbit, quail, alligator). Cooking enthusiasts interested in seeing the process from cold pot to hot gumbo should arrive early, observe and ask questions. Be sure to eat breakfast, though, because gumbo isn't served to the public before 11 a.m. And, while the festival stretches until 4 p.m., the gumbo goes fast so don't expect to find much, if any, after 1 p.m.
Boucherie Festival
A 45-minute drive from New Orleans will get you to Sorrento and its sporktacular 31st Annual Boucherie Festival (www.eatel.net/~fred/boucherie/index.html), where Cajun specialties abound. Expect boudin, boudin balls, hog's head cheese, barbecue pork ribs and roast pork and highly competitive cook-offs for crackling and jambalaya.
Gumbo Festival
Bridge City's Gumbo Festival (www.gumbofestival.org) is heavily attended and with good reason. In addition to stirring up more than 2,000 gallons of both seafood and chicken/sausage gumbo, other local favorites are offered too, like jambalaya, New Orleans red beans and rice with sausage, and homemade cakes and candies. The big draw is the Gumbo Cooking Contest, which shouldn't be missed.

October 17–19
Andouille Festival
Sausage heaven is in the Andouille Capital of the World: La Place (www.stjohnla.us). Experience three days packed with sausage celebrations and contests using andouille in three categories: gumbo, jambalaya and miscellaneous.
Rice Festival
Louisiana aromatic rice is a beautiful thing. In Crowley, they celebrate the harvest with a fun-filled festival (www.ricefestival.com). Look for a slew of rice-laced dishes along with the crowning of the Chef de Riz and contests that include rice cooking, eating and grading.
Pepper Festival
A world-famous pepper-eating contest, hot food, cold drinks and good times take place in downtown St. Martinville (www.stmartinkiwanis.org). Scoop up some chow-chow, pepper plants, pepper-laced food and pepper cookbooks.
Feast on the Levee
Dig into crawfish fettuccini, corn and shrimp soup, gumbo, shrimp stew, deer sauce piquant, fried catfish, barbecue chicken, brisket and ribs, jambalaya, boudin balls and more at this massive family favorite in Brusly (West Baton Rouge Parish). For more information, contact 225-381-9556.
October 24–26
French Food Festival
Three days of intense French food heritage happens in La Rose (www.bayoucivicclub.org/festivals.htm). Try boulettes, gratons, meat pies, hog's head cheese cobblers and tartes à la bouille, among many other amazing dishes.
Yambilee
French settlers near Opelousas discovered Native Americans eating sweet potatoes in the 1760s and incorporated the spud into their culinary repertoire. The Yambilee (yambilee.com) is in its 63rd year, with a cooked yam competition and a kids and seniors "Yam-i-Mal" contest for the sweet potato that most resembles an animal. Check out 2008's Mr. Yam, the Yambilee King, the Yambilee Queen, King Yum Yum, Queen Yum Yum and more sweet royalty.