Jimbo Geisler & Sandy Sharp: Sportsman's Paradise
New Orleanians are fortunate to have a variety of leisure activities to fill weekends and holidays, and when one grows tired of food festivals, live music and ever-flowing cocktails, the tranquility of a slower-paced lifestyle is only a short drive away.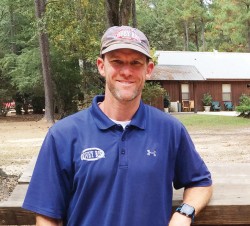 Located on 400 acres of woodland north of Lake Pontchartrain in Husser, Louisiana, Covey Rise Lodge provides a quiet, distraction-free setting that is the perfect backdrop for a family getaway, corporate retreat or social gathering.
Covey Rise Lodge was formed in 1999 as a collaboration between Jimbo Geisler, who ran his own hunting and landscaping businesses and who, at the time, was finishing a degree in Wildlife Management, and Sandy Sharp, a land developer and former attorney involved in real estate investments. The two met in 1998; Geisler had the hunting business, and the 400 acres belonged to the Sharp family. "It was just thick woods, you couldn't even walk through it," Geisler says. "Sandy just has unbelievable vision."
By October 1999, thanks to Geisler's hunting business and Sharp's networking skills, Covey Rise Lodge was open and ready for business. At the time, there was only the six-bedroom lodge, the hunting office and a small cabin. Today, its facilities include a meeting center, swimming pool, tennis and basketball courts, plus cabins for rent. The Lodge sleeps 12 people in six bedrooms with private bathrooms.
Covey Rise began as just a hunting lodge, offering three different types of half-day hunts: quail; mixed bag (chucker, quail, pheasant); and flighted mallard ducks. Quail hunts, which are offered in the morning and the afternoon, include a professional guide and dogs with transportation to the nearby fields. Duck hunts take place from blinds located along a flyway on Covey Rise property, and pheasant hunts are based on a European-style pheasant tower shoot where pheasants are released from a tower and the hunters shoot from 10 stations arranged in a circle around the tower. Though hunting season only lasts from mid-October to mid-April, Covey Rise also offers year-round shooting activities thanks to its 14 sporting clay stations, lighted five-stand and skeet range.
During the summer, Covey Rise offers seven weeklong Kids Camp sessions, taking up to 15 boys per week ages 11 to 15. The program focuses on the Louisiana state hunter education program, helping youth gain skills for a lifetime of enjoying outdoor sporting activities, as well as basic hunting and camping skills, gun safety, orienteering and shooting instruction.
In 2008, Geisler and Sharp decided to expand their offerings. "Sandy said, 'Only 10 percent of people hunt, but 100 percent of people eat,'" Geisler recalls. "So we introduced the farming aspect to support our offerings at the lodge." They began farming on 10 acres, but today, overseen by farm manager Grady Seale, Covey Rise Farms grows greens, root vegetables, squashes, herbs and more on 70 acres. Their first customer was John Besh, followed by Dickie Brennan, and, thanks to the exposure gained from their collective 12 restaurants, Geisler says, "The word started spreading fast."
Whether staying at the lodge or at one of the cabins on the property, visitors to Covey Rise can enjoy restaurant-quality meals that go beyond simple sustenance for hunters. Lodge chef Marc Lyons prepares meals to enhance the Covey Rise experience, taking full advantage of the farm-fresh produce and even meat from sister company Chappapeela Farms. Open year-round, Covey Rise offers field-to-table events for private bookings, complete with overnight accommodations and farm tours, and is a popular corporate retreat destination, thanks to its private and tranquil setting.
"The main thing we try to do here is offer an enjoyable experience," Geisler says. "Whether you're here to relax, to eat or spend a weekend hunting, we want everybody to enjoy their experience at Covey Rise!" coveyriselodge.com