Sports—and a new stadium—can help reinvigorate the city and produce the heroes it desperately needs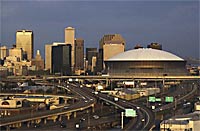 In a historic, proud city beset by enduring troubles, the need for heroes has grown exponentially. That fact renders the outpouring of emotion during the 2006 Saints season all the more understandable. We so wanted to witness something exceptional—in real and concrete form—that we were overjoyed to see our team, emblazoned with our very symbol, the fleur-de-lis, battle it out with other champions in the most prominent sport in the nation. We emerged victorious, week after week. What we, or rather more accurately our city, state and federal governments, could not accomplish, our guys in black and gold did.
New Orleans has been blessed with many resources: most notably the proximity to oil and gas deposits and a location on the Mississippi's key crescentic juncture, which helped it become the epicenter of the American economy at one time. Yet perhaps New Orleans' most enduring asset is its esprit d'corps, which has seen it through disasters, wars and cultural change over three centuries. New Orleans is at a crossroads in determining how and if, like so many of its other assets, it will maintain its seemingly natural reserve of spirit.
At other times of hardship, New Orleans built sports stadiums, which seemed to help it get through crises. The Fair Grounds was constructed just after the Civil War. Tulane Stadium was built just prior to the Great Depression, but, as a home to a burgeoning SEC football program at Tulane and as a perennial site for the Sugar Bowl, it became an economic and spiritual boon during trying times. And let's not forget the Superdome, built at a time of civil and commercial transition in the 1970s. New Orleans finds itself at just such a juncture today.
Times have changed greatly since the construction of Tulane Stadium, which was located Uptown between Willow Street and Claiborne Avenue. Dedicated in 1926, the stadium was built through donations from 6,000 citizens totaling approximately $300,000. It was then the world's largest steel stadium and ultimately seated more than 83,000 in its classic bowl-shaped design. It hosted Sugar Bowls and Super Bowls, and directly led to New Orleans' earning a right to an NFL team and becoming one of the nation's primary sporting centers. The Superdome was completed in 1975 at a heftier cost, $163 million (more than 400 percent over what had been budgeted), yet it yielded similarly positive results. It anchored a downtown revival by hosting national championships, megaconcerts, Super Bowls and a political convention, all of which helped spur a hotel boom.
Yet at 31 years old, the Superdome is now one of the oldest stadiums in the NFL. Excluding such hallowed arenas as Lambeau Field and Soldier Field, it stands as a final throwback to the days of cookie-cutter 1970s design, and it seems the writing is on the wall foretelling its demise. In late March 2007, the state and the Saints reached an agreement to keep the team in the Dome through 2010, ensuring that the structure's $185 million three-phase renovation would continue. It is understood, however, that after that a new stadium will be necessary. The cost has been estimated at $450 million, but if the results are similar to those of prior stadiums it will be well worth it, not only in terms of its prospective return on investment but also in unifying the people of New Orleans.
Not only should the city build another stadium, but it should devote more money to youth programs through the New Orleans Recreation Department. (The city's 2007 recreation budget is approximately $2 million, a mere 0.26% of its total expenditures and less than 40% of what it provided in its 2005 budget.) By doing so, the city would profit greatly. Sports can help new generations form lifetime friendships across real and perceived boundaries. It gives kids a sense of community while promoting self-discipline and fostering the competitive spirit—all things they can carry with them throughout their lives. Sports can also produce the next generation of heroes and leaders for a city desperately seeking them. Monk Simons, Mel Ott, Michael Lewis … these were the sort of local heroes who made others better men and women by setting fine examples by the way they lived and played. They gave something of themselves and brought New Orleanians together. The city should not allow itself to waste its last and best resource, its vigorous spirit.
Real Dollar Value of NFL Stadiums
Cost of Building Tulane Stadium in 2007 Real Dollars:
1926: $ 300,000
2005: $3,300,000
Cost of Building Superdome in 2005 Real Dollars:
1975: $163,000,000
2005: $591,268,574
Anticipated Cost of Building New NFL Stadium In New Orleans:
2007: $450,000,000
Net Real Economic Impact for Host City and State Generated By 2002
Super Bowl in New Orleans:
New Orleans: $350,000,000
Louisiana: $402,000,000