Dr. Benjamin Springgate
Set your health goals and stick to them this year.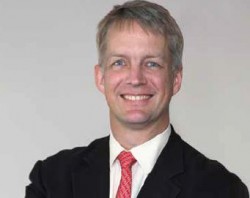 Dr. Benjamin Springgate, an internal medicine specialist, has worked in the Uptown community for several years. He recently joined the team at LSU Health Network and now practices from LSU's St. Charles Avenue clinic location. "It's a terrifically supportive environment," he says. "The positive and upbeat clinic setting offers a number of resources and tools to our patients — whether from the preventive health and wellness perspective, or for a patient who has perhaps a more complex health need and will benefit from seeing an academic specialist."
If you're thinking of improving your health this year, either by losing weight, increasing physical activity or quitting smoking, Dr. Springgate has some expert advice for you. "Frequently, when we think about health-conscious New Year's resolutions, they tend to fall into three or four principal areas," he says. These areas include beginning an exercise regimen; losing weight; improving eating habits; and quitting harmful habits, like smoking or problem drinking. Dr. Springgate addresses each of these concerns below — and reminds readers that their primary care physicians are great resources.
EFFECTIVE EXERCISE
• Set yourself up for success. When you decide to start exercising, don't place needless obstacles in your own way. "One of the things that holds people back with trying to exercise, if they have not been exercising, is that they feel like they need to join a gym, or join some type of exercise class, or that they need special clothing or equipment," Dr. Springgate says. "For people who are just getting started with trying to build endurance and improve cardiovascular health, something as simple as a walking routine can be a great way to kick-start your exercise and not have to deal with all of those other barriers."
• Start slow. "Start with something as simple as walking 15 minutes a day, or 15 minutes three to four times a week, and then build up from there," Dr. Springgate says. Instead of focusing on distance, simply think about the amount of time that you're walking.
• Pick an activity you love. If you dread the gym, you're less likely to get there every week. Instead, choose a physical activity that brings you pleasure. "Maybe that means participating in gardening, if you enjoy gardening at your house," Dr. Springgate says. "Or maybe it means participating in some type of sport. If you used to enjoy playing basketball or swimming, there's an opportunity there to get involved in an activity that not only involves exercise, but is fun."
• Bring a buddy. Getting active with a friend, co-worker or family member is a great way to build in accountability — especially on days when you just don't feel like exercising. "You don't want to let down that other person," Dr. Springgate says.
LONG-LASTING WEIGHT LOSS
• Make small changes. Often, our exercise goals are related to losing weight — and we want those pounds to fall off as fast as possible. However, just like beginning a new exercise regimen, it's important to start gradually with any dietary changes. "I try to encourage people to focus on the notion of making a change that they can maintain," Dr. Springgate says.
• Keep your eyes on this week. Dr. Springgate suggests making incremental changes to both diet and exercise patterns, with the goal of losing one to two pounds per week. "We're not setting an unrealistic goal of 'I want to lose 10 pounds in two weeks' — that's not healthy," he says. "You may end up doing something that could hurt you and your health." He points out that if you lose just one pound per week by focusing on your daily efforts, you'll be 24 pounds lighter in six months.
• Don't be drastic. You can cut down on carbohydrates without cutting them out completely; the same principle applies to any food group. "I encourage people to maintain a well-rounded diet and not to wholesale-eliminate an entire food group," Dr. Springgate says.
AVOIDING SMOKING AND PROBLEM DRINKING
• First, acknowledge the challenge if you're a smoker. "Tobacco cessation is very difficult, and there are studies that show that nicotine is extremely addictive," Dr. Springgate says. "It's one of the most difficult habits that impact health for someone to quit."
• Take advantage of local resources. "There are a lot of really helpful tools that are available now that perhaps weren't available the last time someone tried to quit," Dr. Springgate says. He suggests seeking assistance from the Smoking Cessation Trust, an organization that provides resources, education and support — including smoking cessation products and counseling — for long-term smokers who want to quit. "The phone number for that is 1-800-QUIT-NOW," Dr. Springgate says.
• Set a date to quit. "Maybe it's Jan. 1 or Jan. 15," Dr. Springgate says. "Start telling your friends and family. Go ahead and call the Smoking Cessation Trust before then." Inform your doctor of your plans, too.
• Get personal support. "With alcohol, it's similarly challenging," Dr. Springgate says. "There aren't as many simple solutions available as we would like to have. It can be helpful to seek the support of a group, doctor or counselor."
• Rule out temptation. "People know that when they hang out with certain friends, or spend time at a specific place, they're going to smoke or drink," Dr. Springgate says. "It's really a matter of also breaking some of the patterns of behavior and the activities that are associated with the habits that you want to cut back on."
In setting any new health goals, it's important to remember your No. 1 ally: your primary care physician. "That's where developing a positive relationship with your doctor about your interest in trying to achieve these healthy goals can be really positive," Dr. Springgate says. "You have a coach; you have a cheerleader; you have someone who's on your team."
DOCTOR INFO
Benjamin Springgate, M.D., M.P.H.
Associate Professor of Clinical Medicine and Public Health
LSU Healthcare Network
3700 St. Charles Ave., 2nd Floor
(504) 412-1366
MEDICAL SCHOOL: Tulane University School of Medicine
RESIDENCY: Tulane University School of Medicine, Internal Medicine andPediatrics
FELLOWSHIPS: University of California, Los Angeles, Robert Wood Johnson Clinical Scholars Program
BOARD CERTIFICATION: Internal Medicine